Teams and Zoom Rooms
Transform your clients' workplaces with these high-performance, all-in-one large-screen displays, for combined physical and virtual meetings in medium to large rooms.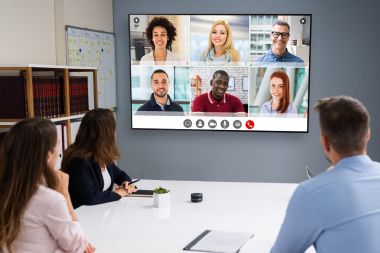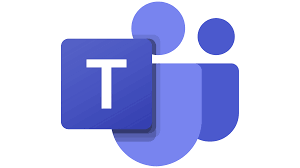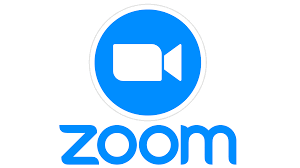 ---
Size Matters
When selecting a screen the first step should always be to calculate the required screen size for the size of the room. This will ensure the screen can be clearly and comfortably viewed from everywhere in the room.
DISCAS, the AVIXA standard for image size, tells us that for medium and large rooms of 6m deep and above, displays must be a minimum of 100". See our screen size quick guide here.
This means that with a maximum size of 98", the size limitations of flat panel displays make them inadequate rooms of 6-7m deep and above.
Our Teams/Zoom/VC room displays are all-in-one powerful optical projection displays from 100" to any size, so you can always select a screen of the appropriate size for the room.
Performance matters
Gone are the days of Old Projection, with its washed-out, disappointing images. This new optical projection technology features specialist optical screens and laser projection for powerful, high-contrast, colour rich, and detailed images, up to any size, even in bright light and daylight. The anti-reflective screen surface eliminates eye fatigue and allows for more comfortable viewing for longer periods. Easy to use and maintenance-free for 20,000 hours.
---
Cost Matters
Whether for a single room or large-scale deployment, today's market is cost-driven. With this solution, you can offer clients a display that will give them both the best results, according to size and performance, and the best value, being a fraction of the cost of equivalent flat panel displays.
---
Simple and seamless meetings
Featuring an optical screen, laser projector, and mount in flexible sizes and combinations, depending on room size and user need, this Teams/Zoom/VC display is easy to order, install and use.
Get expert advice
We create large displays of exceptional quality and value. We are the only trade-only screens and displays specialists with full CAD, technical expertise and specialist support consultancy. Book a call with one of our expert team and see how we can transform your next AV project.

---
---
NEW -
VDL 120" Standalone Laser Display

New all-in-one display solution for Teams, Zoom and VC spaces
For medium and larger spaces (and where Teams sessions participants' thumbnails are too small!) our new 120" standalone display is your go to option.
Our new VDL 120" Standalone Laser Display provides stunning image quality, compliant with AVIXA standards, reaching participants to the back of larger spaces.
Designed for enterprise-level integration to make your clients delighted with the quality (and price), it's also designed for considerable savings and benefits in planning and installation phases.
Part of our Complete Laser Display range at its core, it comprises a standards-curated combination of Epson laser HD UST projector and dnp Supernova ambient light rejecting screen. Housed in an attractive cabinet, the VC camera (or camera bar) and all control and ancillary equipment are all contained within this single unit.
The system comes with a mini-rack system on castors as standard which can be pre-delivered for you to pre-populate and fully factory test. Our team delivers the systems to site at pre-booked times, pre-fit your VC camera and align the projectors. A single engineer can then roll the pre-loaded racks into the unit - and complete dozens of systems in a day!
Gone are the days of two or more engineers spending hours making structural fixes in client walls to hang heavy Large Format Displays.
The VDL 120" Standalone Laser Display has many options, including sizes from 100" up to any size, 4K UHD resolution, secondary system rack, roll-around versions - plus colour and finish choices.
---
Download a brochure below:
---
The new VDL 120" Teams/Zoom/VC display unit is the latest in our Complete Laser Displays range. Displays from 100" delivering standards-exceeding image quality.
Key features
Complete system
Perfect image quality - no reflections - completely matt screen
180-degree viewing angles
Roll-in 19" rack unit that can be built and tested before installation
Bespoke finishes, image sizes and designs available
Fits any VC camera and VC soundbar
Epson HD maintenance-free laser projector
Runs off 13A plug.
Slashes installation costs
Designed for enterprise-level deployments where dozens of units can be installed in a day
Complete system costs less than 98" LFD panel