Investing in knowledge at UEA
Large dnp Supernova Infinity screen for the new Julian study centre at the University of East Anglia (UEA) in the UK follows a similar Supernova Infinity screen installed at the university's multi-award winning Thomas Paine study centre.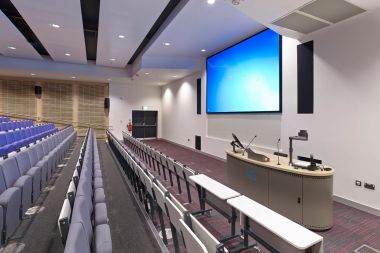 Our solution
A 3.8m x 2.4m Supernova Infinity Screen using 08:85 low-gain screen material, run in conjunction with a Panasonic WUXGA projector. Product selection was based on the criteria of environmental consideration, optical calculations and image quality. All display equipment is native WUXGA resolution and the system features AMX Enova DVX Digital Infrastructure with SmartScale and HDCP Compliance, ensuring all devices display the highest possible video resolution onto the dnp surface.
Due to the client requirement for increased capacity, the theatre was continually evolving in design during construction and resulted in the 280-seat theatre being tiered and square in shape. It was the shape of the theatre that had dictated the use of the 08:85 material, according to Snelling project manager, Steve Royans. "With such a wide auditorium, optimum off axis viewing was essential and this offered us improved contrast levels, as the theatre is used for film screening with 7.2 THX audio. The material is ISF certified which defines the very highest quality of displays."
---
Project Facts
Client
Snelling Business Systems, UK.
Site
University Of East Anglia, UK
Screen
3.8m x 2.4m Supernova Infinity Screen using 08:85
Projector
Panasonic WUXGA projector
---
Client Feedback
The 57th building to be erected on the University's 300 acre site, the installation was supported throughout by Visual Displays' predecessor, Paradigm AV, who supplied the Supernova Infinity Screen. "The display looks stunning and the client is 100% happy," confirms Steve Royans. "It is a tremendous privilege to have been involved with this pioneering building and to play a part in meeting the standards required to deliver its environmentally friendly credentials. Working hand-in-hand with the university in this way has given us a unique and unrivalled expertise in defining their complex AV requirements."
---
Posted: 13th December 2019
---
Tagged in...
Categories