Interactive Floor Projection and Touch Tables
We can make virtually any display type or surface interactive.
There are two main types of interactivity: multi-touch interactivity and gesture-based interactivity. These interactive screens pair well with immersive displays to give a full and engaging experience to users.
Multi-touch interactivity is the equivalent to your smartphone or tablet. The display can register one or more contacts with finger or stylus and react accordingly. It's ideal for applications where some precision is required. We use different technologies and techniques to create these functionalities.
For clients looking to build a more engaging customer experience, our multimedia interactive floor projection systems are an easy and effective way to attract and immerse users in a full-body interactive experience.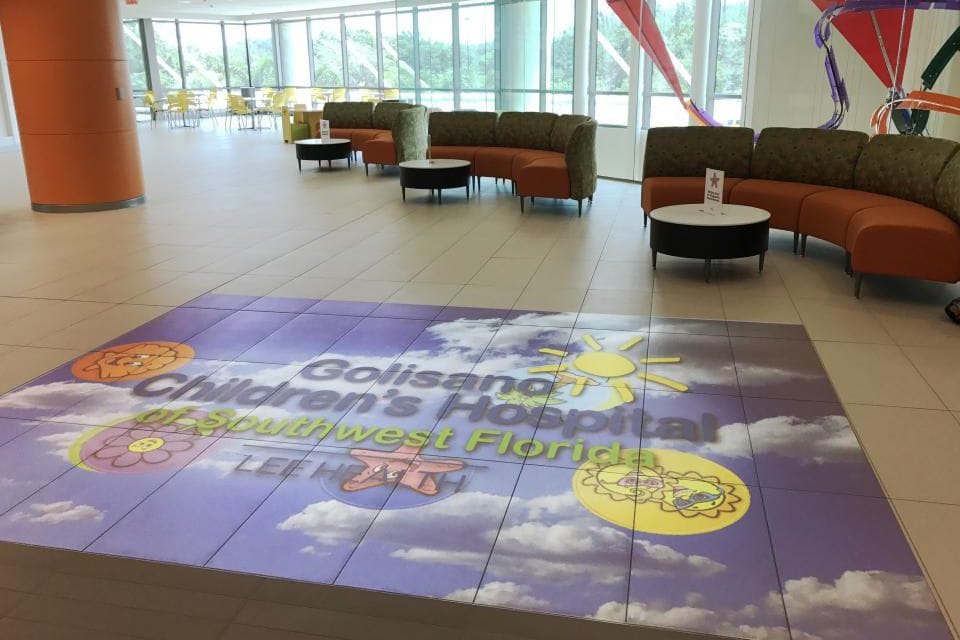 ---
Retail and public environments
Draw customers through the door, offer a welcome, show them where to go, and advertise brands and special offers. Occupy and entertain children with games and activities - think shopping malls, food courts, restaurants, train stations, and even hospitals.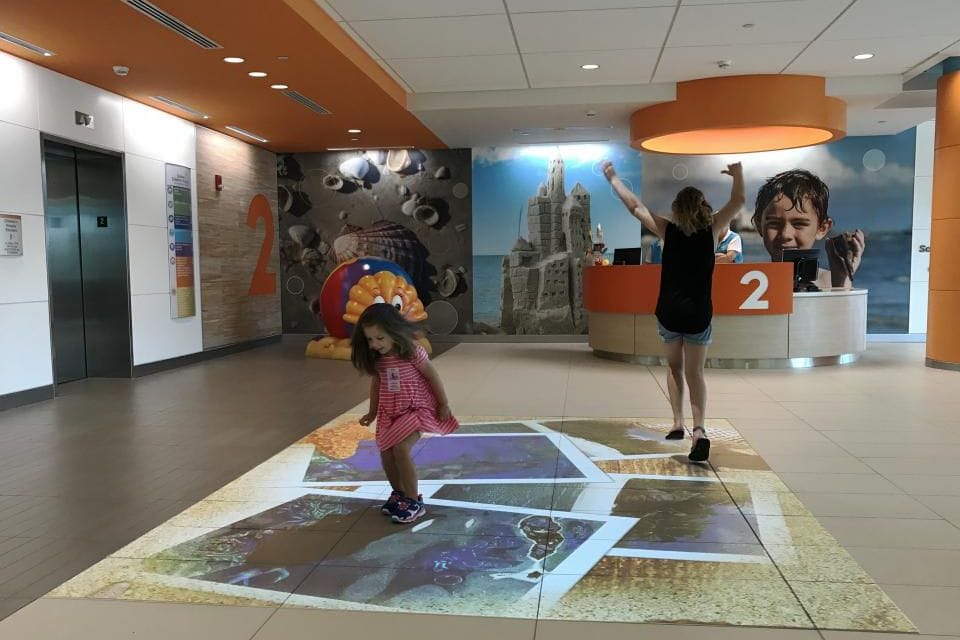 ---
Educational, recreational, and care environments
A safe and fun way to offer fun learning and sensory experiences to great effect. Interactive floor projection is ideal for schools to teach interpersonal and collaboration skills. It can be used to encourage physical activity, coordination, and movement, making it a great fit for sports and recreational facilities.
---
Many of our floor projection systems use GestureTek's patented motion-driven video gesture control technology. This state-of-the-art body tracking and gesture recognition system intelligently monitors and responds to the position of the body, allowing for real-time motion control and interaction with display graphics. GroundFX can create a dynamic floor from any flat surface of any size.
The system comes with a variety of interactive scenarios that can be used out of the box and easily customised with client logos and branding.
How does it work?
Standard systems usually have a laser projector mounted flush to - or within - the ceiling, mounted on our 'gobo' mirror system which then reflects images down onto the floor. The area is invisibly bathed in infrared lighting, mounted by the projector, together with an infrared camera. The camera captures all movement and our software both calibrates its position and sends inputs to the content software. From gentle water effects to more complex games and content, interactive floors are a powerful and impactful medium.
---
Content and programming
We provide both standard and bespoke content. GestureTek systems come complete with a comprehensive range of content - much of which can be versionised with your own logos and artwork quickly and easily. Our content and programming partners, iDEA Studios, produce content for global brands and landmark locations. Benefit from our vast experience to create exceptional experiences - and avoid expensive mistakes.
---
Floor Projection Mirror Rigs (Gobos)
Mirror 'gobos' are used to project onto floors, tables etc. They comprise a projector mount and small optical mirror. The projector can be mounted tightly and out of sight on the ceiling to create special impact on surfaces below.
Interactive tables are part of our interactive floor range
Projected interactive tables work using the same interactive technology and techniques as our interactive floors. They are gesture-based and are ideal for education, health, soft learning, play areas, restaurants – and sheer fun! They work with single and multiple users. We make these tables in any shape or size – and can turn your requirement into an exciting and effective experience for your users.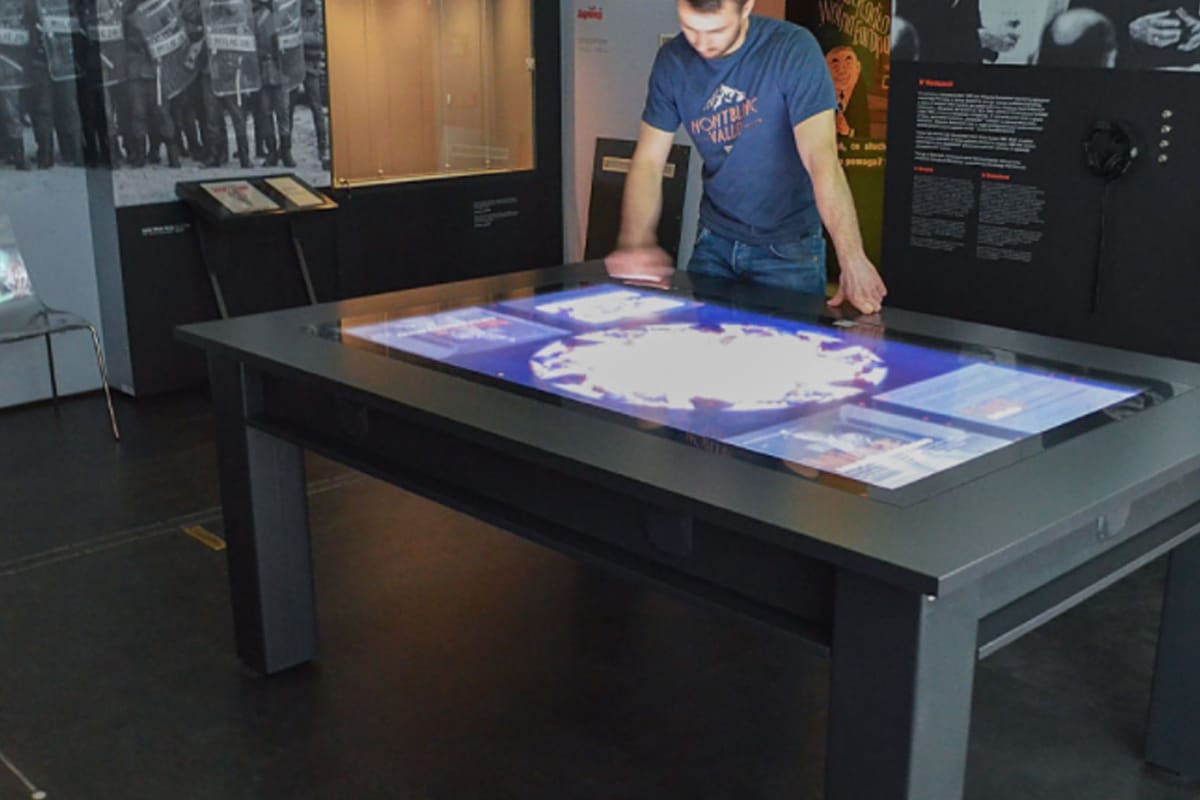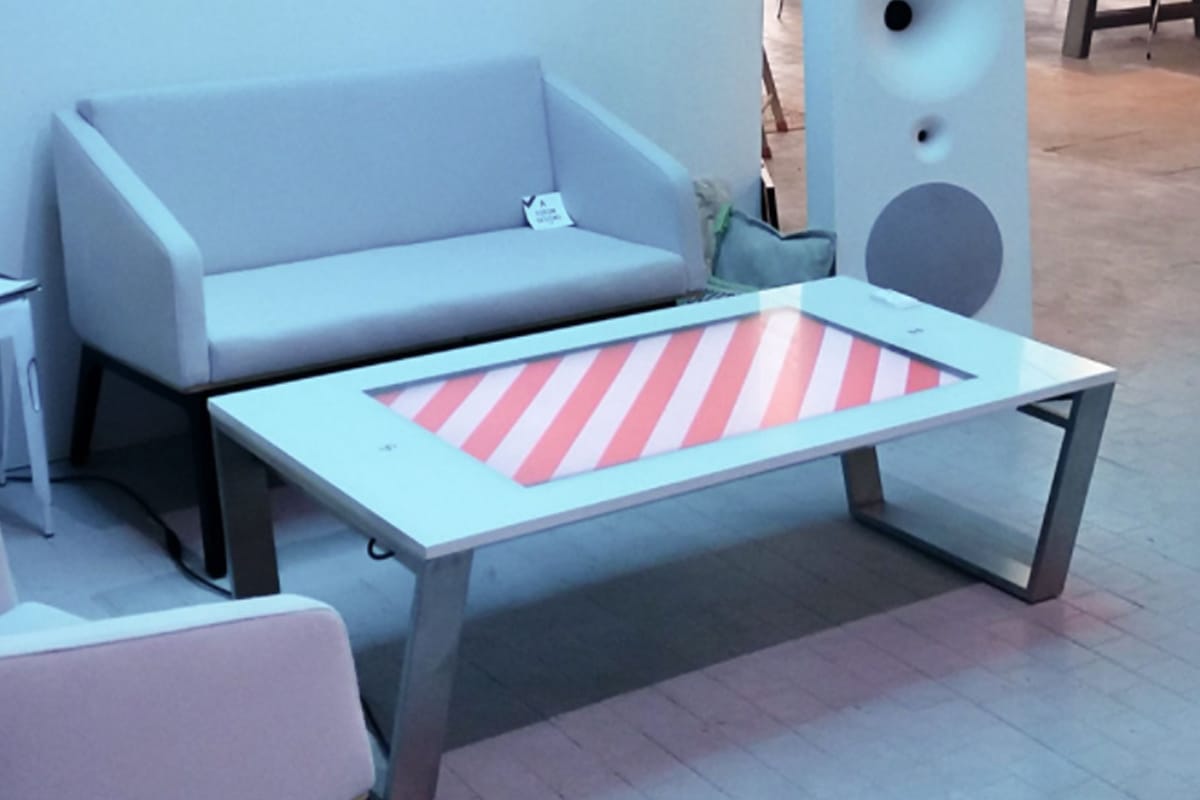 Touch tables use touch technology similar to interactive flat panels used in schools. They are used where fine detail and accurate touch on the screen itself – such as small buttons – are used. We sell these in a variety of sizes and specifications.
All our interactive tables are offered in maintenance-free, remotely monitored packages to guarantee long-term success and results.
---
Explore by Technology