LedProj Partners
Helping LedProj partners to create large displays of exceptional quality and value.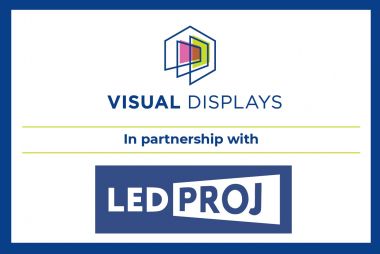 Visual Displays is a proud partner of LedProj and able to offer expertise in all display solutions to you and your clients.
We design, supply, install and support visual display systems for the ProAV channel.
We are your behind-the-scenes partner; ours is entirely a service-based offering. We do all the work for you, including impressive proposals with visuals, supporting materials, and fully costed options.
We do everything, so you can create anything!
Avoid the expense and pitfalls of getting it wrong by working with our professional team of vastly experienced designers and engineers.
---
We help make the difference…
Size does matter…
Using a projection screen as your display technology means you can use the DISCAS image size standard to give your client exactly the size they need. Projected images can be scaled to the exact size needed - and in any format or shape.
Quality control…
A projector's resolution remains perfect no matter what the image size. Presenters have the confidence that the image on their own screen is exactly the same on the main display screen.
Compare the cost …
From 90" and above projection is cheaper - and better quality for presenting serious content. The larger you go, the more spectacular the difference is. For example, the current 'hot' image size of 130" (2.9m x 1.6m) costs clients from approx £50,000 to £70,000 for direct view LED (dvLED) displays. Our equivalent Complete Laser Display XL starts from around £16,000!
Spoilt for choice
We supply screens from three of the world's best manufacturers - dnp denmark, Draper and Euroscreen, including electric drop-down, manual, fixed frame, frameless and seamless modular screens of up to any size. In addition, our choice of screen surfaces includes specialist technologies such as ambient light-rejecting screens for brightly lit conditions. This gives us the best possible selection to ensure we have the right screen for your requirements.
Click here to find out more about the range of screens we supply or click a manufacturer's logo below to find out more about a specific range.
---
Find out more about how we can help you create stunning display solutions:
---