16:9 or 16:10 - aspect ratio made easy
We are frequently asked about screen aspect ratio and which one to use. Why is this - and what's the answer?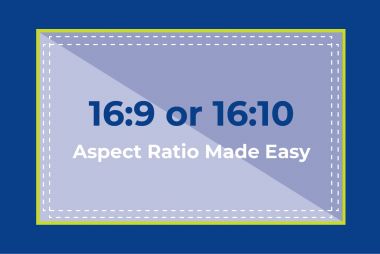 The aspect ratio of an image is the ratio of its width to its height. It is commonly expressed as two numbers separated by a colon, as in 16:9 (and referred to as sixteen nine, sixteen by nine and sixteen to nine). For an 16:9 aspect ratio, the image is 16 units wide and 9 units high - but which ratio should you be using and why?
Find out by downloading our White Paper
16:9 or 16:10 - Aspect Ratio Made Easy
Simply fill in the form and you will be redirected to the download link.