TUDesc Education Space Configuration and Management Tool
Streamline Your Education Space Management with TUDesc.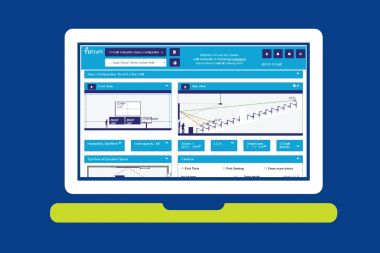 Request a Free Trial Today
---
Manage readability and ergonomic sightlines of your education spaces
TUDesc Education Space Configuration and Management Tool allows you to design and manage the readability and ergonomic sightlines of your education spaces, ensuring that students can fully concentrate on the subject matter without being distracted by unreadable content, visual discomfort and restricted views.

---
Efficient Education Space Management
TUDesc provides AV-IT and asset managers with a complete overview of all stored spaces with aggregate and derivative numbers at campus and building level, as well as individual parameters on a room-by-room basis.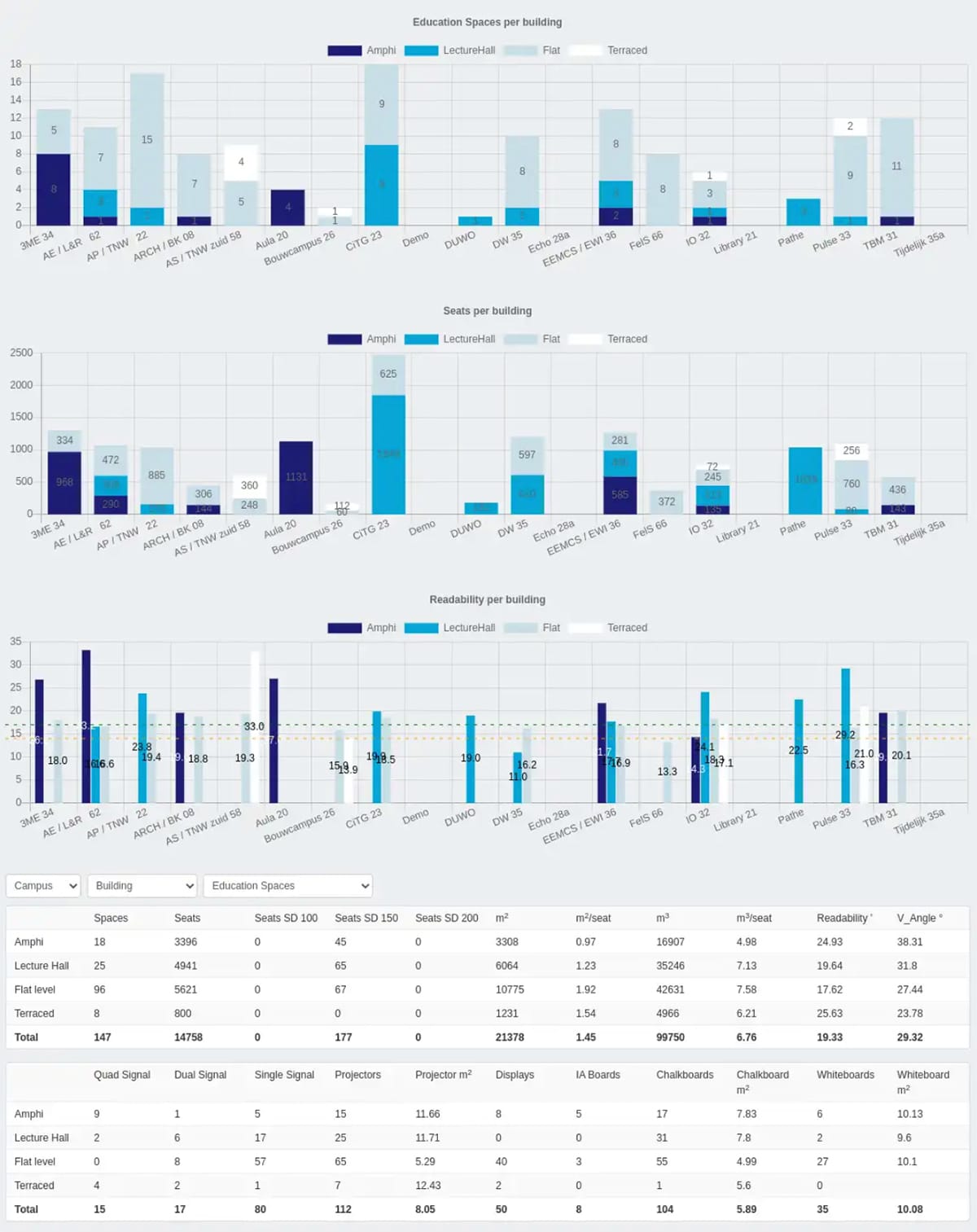 ---
Comprehensive Asset Management
TUDesc simplifies complex interactions with a few simple sliders, and offers bespoke widgets to meet any space configuration needs.
Audio-visual equipment is a significant investment when designing education spaces and buildings. Unfortunately, education-specific qualitative issues are often undervalued against building style and design, resulting in costly changes during the building process. TUDesc solves this problem by allowing you to write proper Programs of Requirements yourself, saving time and money that would otherwise be spent on third-party services.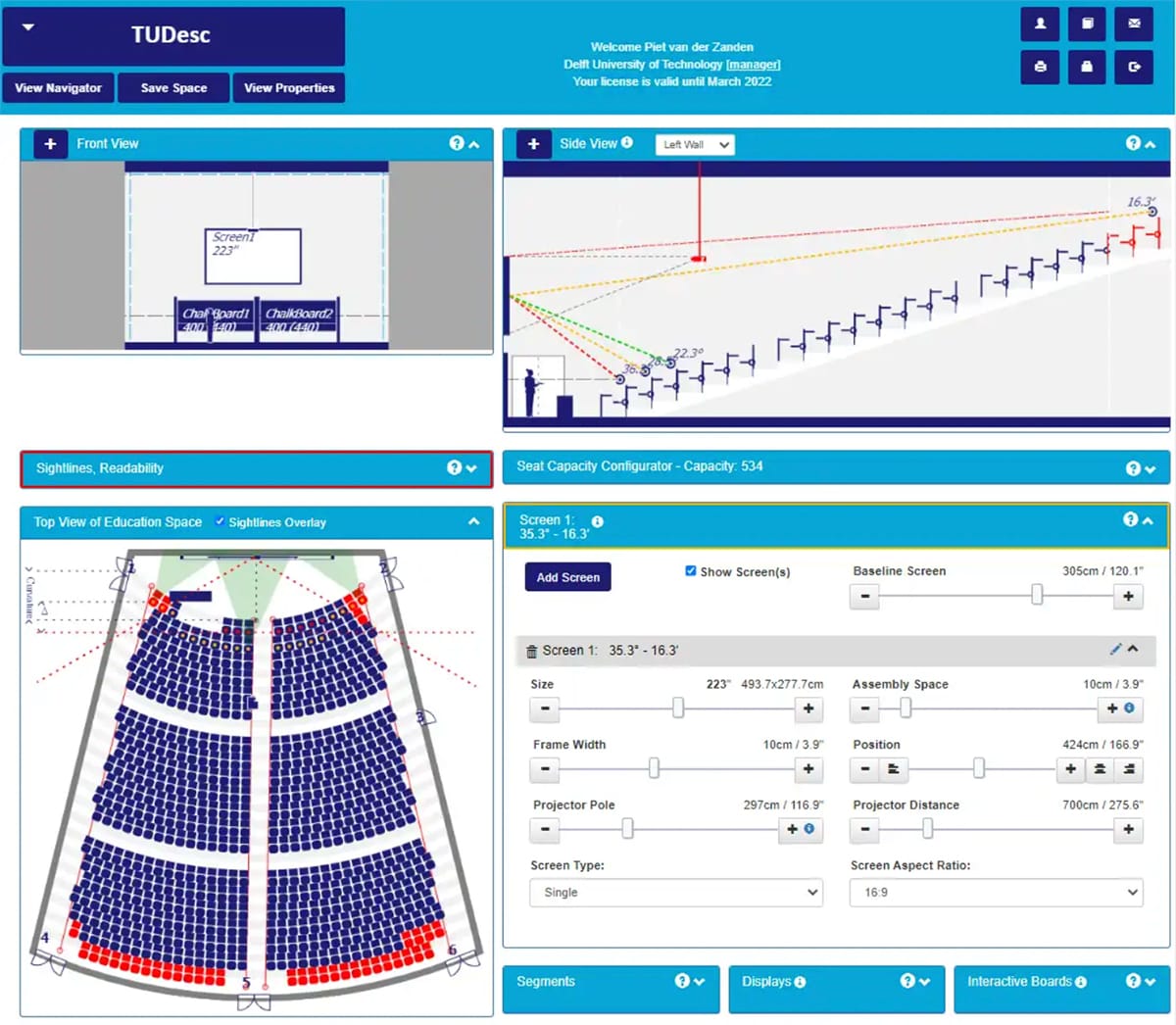 ---
Generate Life Cycles, Register Asset Values and Carbon Footprint
Designing education spaces properly is one key feature, but managing them with TUDesc has additional advantages. Accurate numbers of properties and parameters of education-related AV and furniture - such as life cycles, readability, planned replacements and carbon footprint, are clearly identifiable separate from general facilities / building management numbers.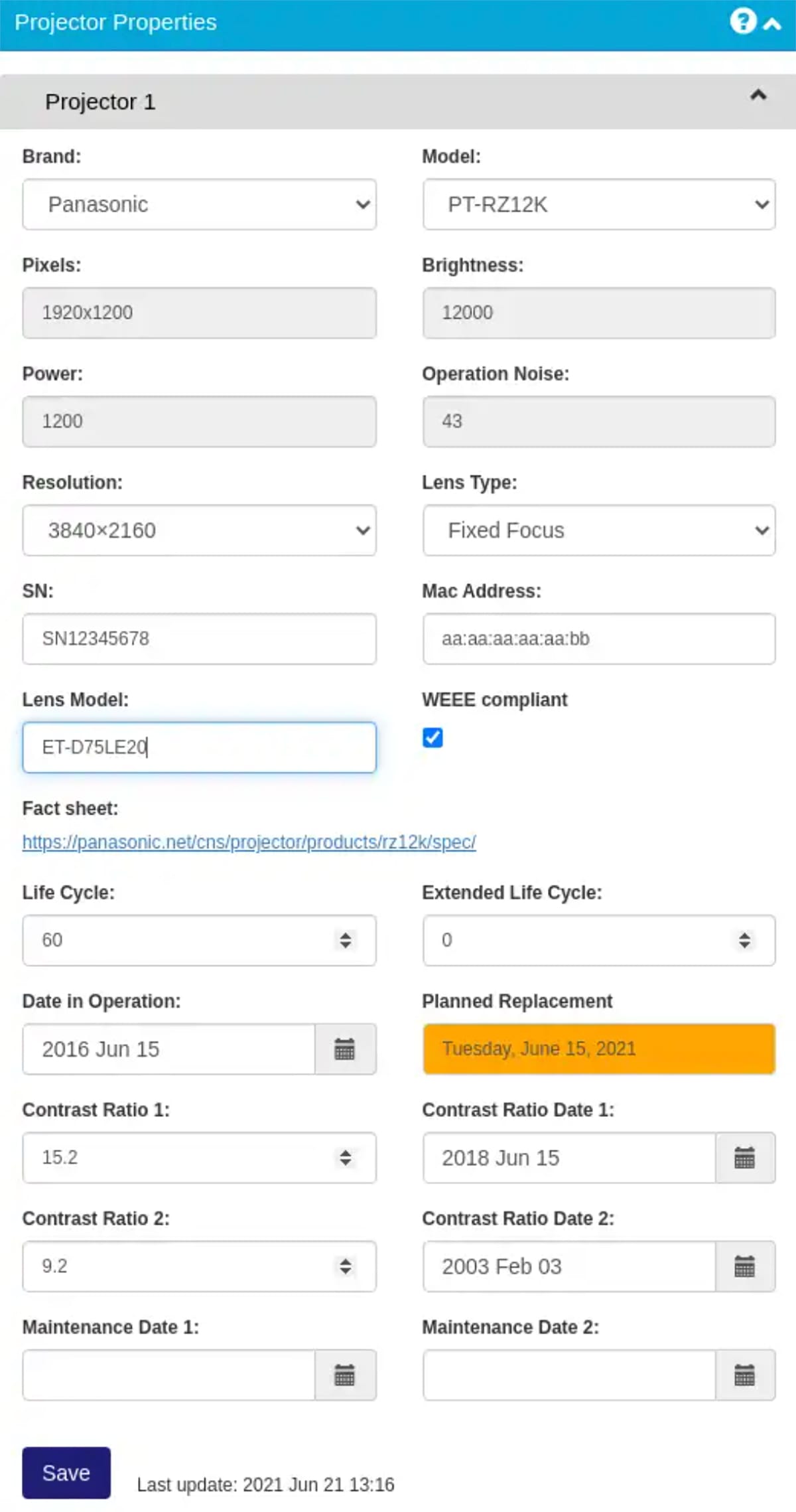 ---
Extensive Reporting Tool
TUDesc generates aggregate numbers for all stored spaces on its Dashboard including Planned Replacement Lists for AV-IT and Assets based on Lifecycle Parameters. It even represents values and costs. All in one place, but with different access rights for managers and professionals.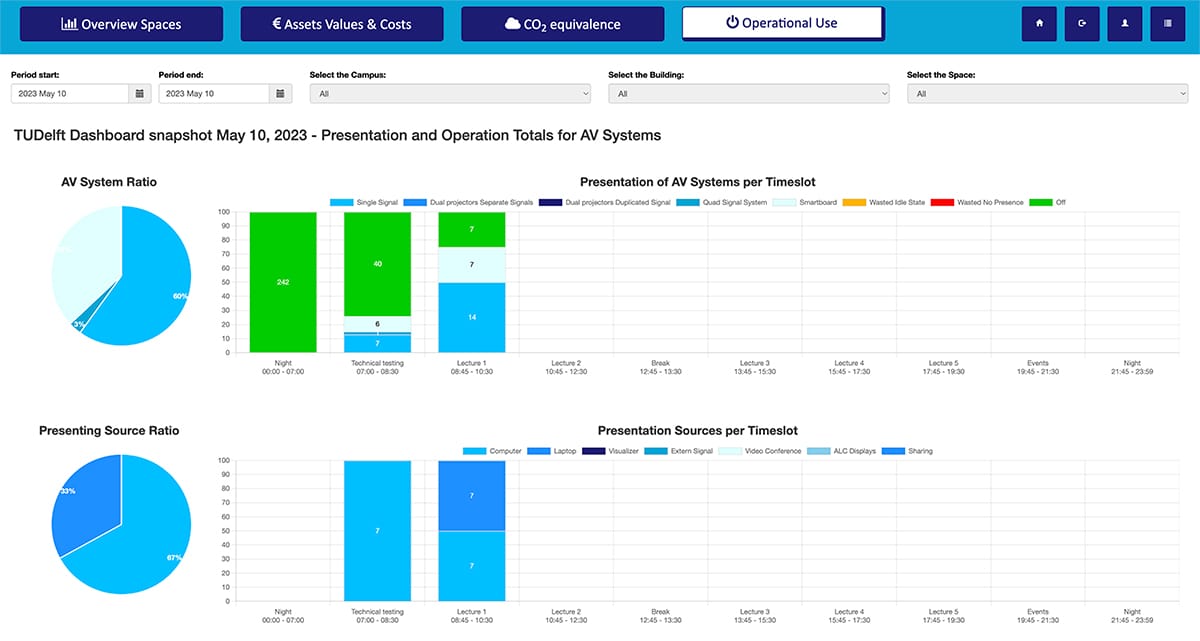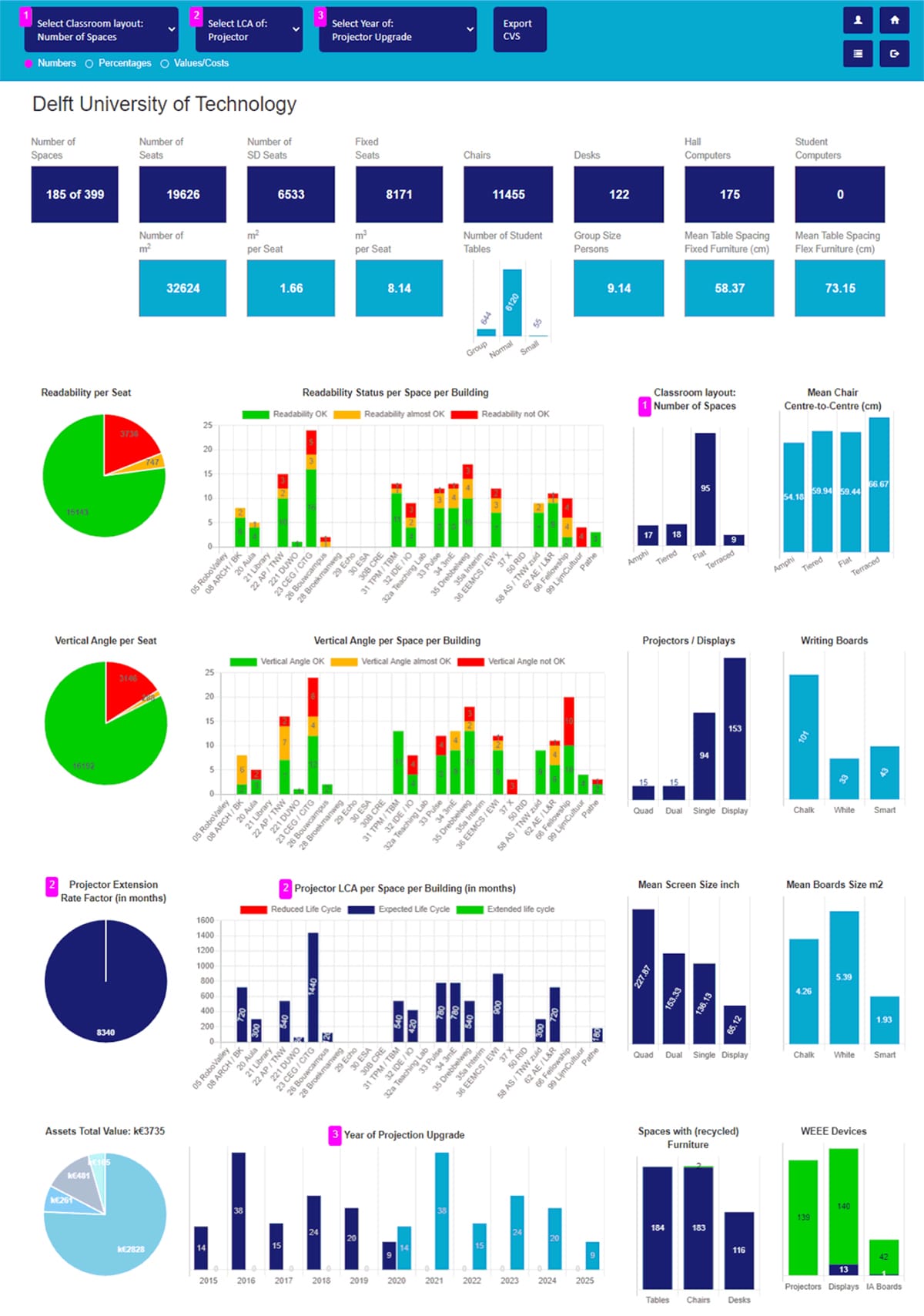 ---
TUDesc - full licence
TUDesc is available in licences of up to 20, 50, 100, 200, 300, 400, 500 and an unlimited number of stored education spaces. All employees of your institute are allowed to use the licence.
The TUDesc Manager assigns permissions to staff for specific roles of AV, Equipment, Facility Management, IT, Furniture and Space conditions.
---
TUDesc - Education Spaces Viewer
Now, for the first time, the Education Spaces Viewer is available as a separate module at only one-third of the licence cost, making it even more accessible for institutions of all sizes.
The ES Viewer allows you to record and view all your education spaces and access detailed information about each one with just one click.
See the ES Viewer in action at Delft University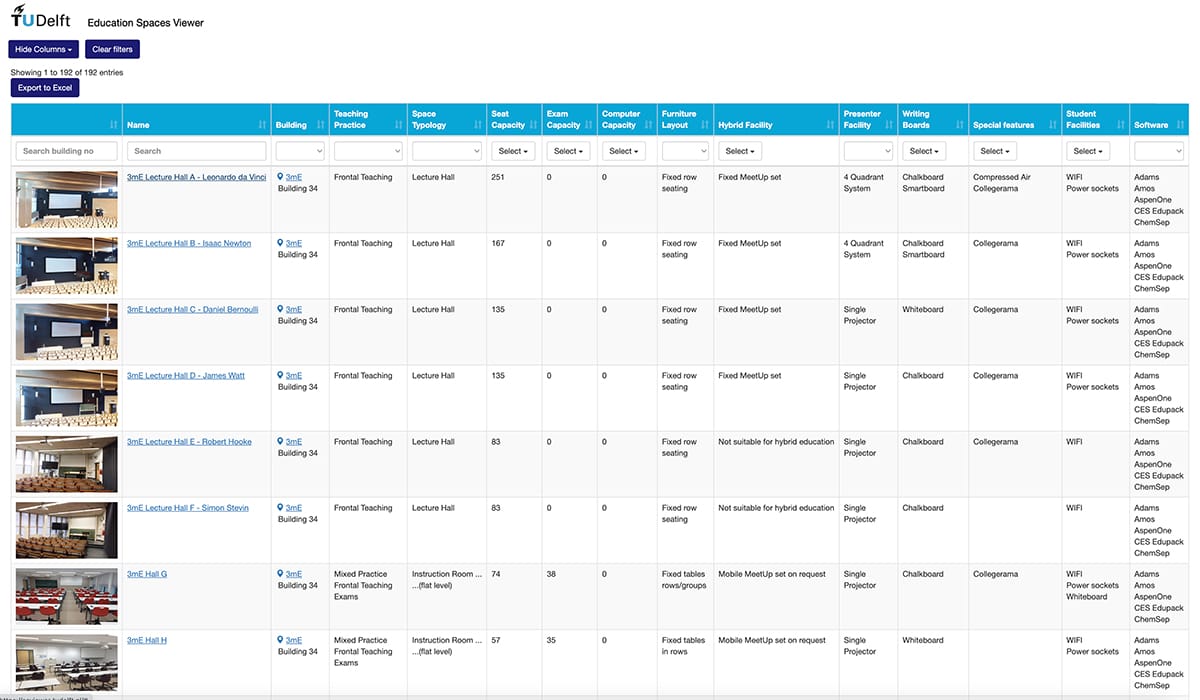 The Education Spaces Viewer offers a range of other benefits, including:
Enhanced communication: The Education Spaces Viewer provides a centralised platform for communication between teaching and scheduling staff, enabling seamless collaboration.

Customizable settings: The Education Spaces Viewer is fully customizable, so you can tailor it to meet your university's unique needs and preferences.
---
We believe that the Education Spaces Viewer module is a game-changer. It's a cost-effective solution that streamlines campus AV management and improves the overall learning experience for students.
---
Register for a Free Trial Today

Don't let inefficient education space management hold you back. Request a free 30-day trial today and unlock the full potential of your education spaces with TUDesc.