No compromise for Southampton University screens
Three extra-large dnp Supernova optical screens were chosen to deliver exceptional teaching and learning experiences at Southampton University's new Centenary Building.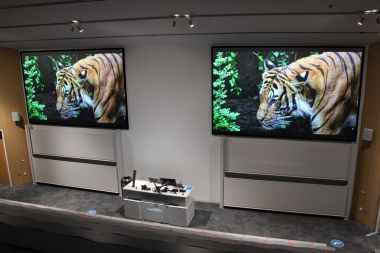 It's one thing to be best of breed, it's another thing to have hard metrics to demonstrate this to prospective students from overseas and home.
Our brief
For this impressive new building on the University's campus, no compromise was acceptable. This state-of-the-art resource will be in use for decades to come and help to ensure the University of Southampton maintains its position as one of the top 100 universities globally (QS World University Rankings 2019).
Leading consultant, Cundall, had specified dnp Supernova optical projection screen technology on previous projects. The 250 seat main lecture theatre and 80 seat Harvard lecture theatre both required high-contrast large screen displays.
Larger teaching spaces can lack immediacy and impact and, as such, may affect learning outcomes adversely. The larger the space, the harder it is to deliver clearly readable content to students throughout the entire area. Students need to be able to see and engage with subject matter from every position in the room.
Getting the technology right is even more vital, that spaces must be adapted for blended learning and social-distancing. AV technology and its correct implementation can provide the solutions.
The choice of display is mission-critical and requires bespoke and nuanced judgements in each space. Fortunately, there are two globally-recognised standards available to create all the system and performance metrics, thereby eliminating guesswork and costly mistakes.
The AVIXA DISCAS standard covers image size, resolution, viewing positions and viewing angles - it even provides content size guidance. The AVIXA PISCR/ISCR standard concerns image quality, namely contrast. When used together, the complete brief and specification can be written for procurement, and certification, of displays with absolute confidence on achieving excellent outcomes.
To create displays that tick all the boxes with both standards is a tough requirement. Global AV system integrator proAV, having won this prestigious bid, was determined to deliver outstanding results for this contract and the Visual Displays team was equally determined to play our support role to its fullest extent.
---
Project Facts
Client
proAV
Consultant
Cundall
Site
Southampton University, Centenary Building
Screens
dnp Supernova Infinity: two 4.5m x 2.813m; and one 3m x 1.875m.
Projector
3 x Epson EB-L1500UH 12,000 lumen WUXGA 3LCD Laser
Installation
Visual Displays and dnp denmark
PISCR testing
19/12/19, Konica Minolta LS-100 laboratory-grade luminance meter, measured by Greg Jeffreys of Visual Displays (lead writer on PISCR standard)
---
Our Solution
The dnp Supernova Infinity ALR (ambient light rejecting) projection screen makes it possible to install standards-conforming displays at a fraction of the cost of competing technologies, such as dvLED (direct view LED). As 'Infinity' implies, these screens can be made in literally any size, to the exact required mm.
The unique advantage of projection is that your resolution scales up with the image size, so native resolution is always intact and staff teach with the confidence that the content on their own screen is faithfully reproduced on the main screen.
In the two largest teaching spaces within the Centenary Building, three such screens were fitted, two in the main lecture theatre to facilitate twin-screen presentations. Not only do these displays deliver content to every viewing position in each teaching space, but they all also exceed the PISCR image contrast standard with the lighting at teaching levels.
Using the 3LCD colour technology with the specified Epson EB-L1500UH projectors, the ISF-certified dnp Supernova screen material is capable of delivering fully colour-calibrated content.
A picture tells a thousand words and these photos show exceptional learning resources provided at the University of Southampton.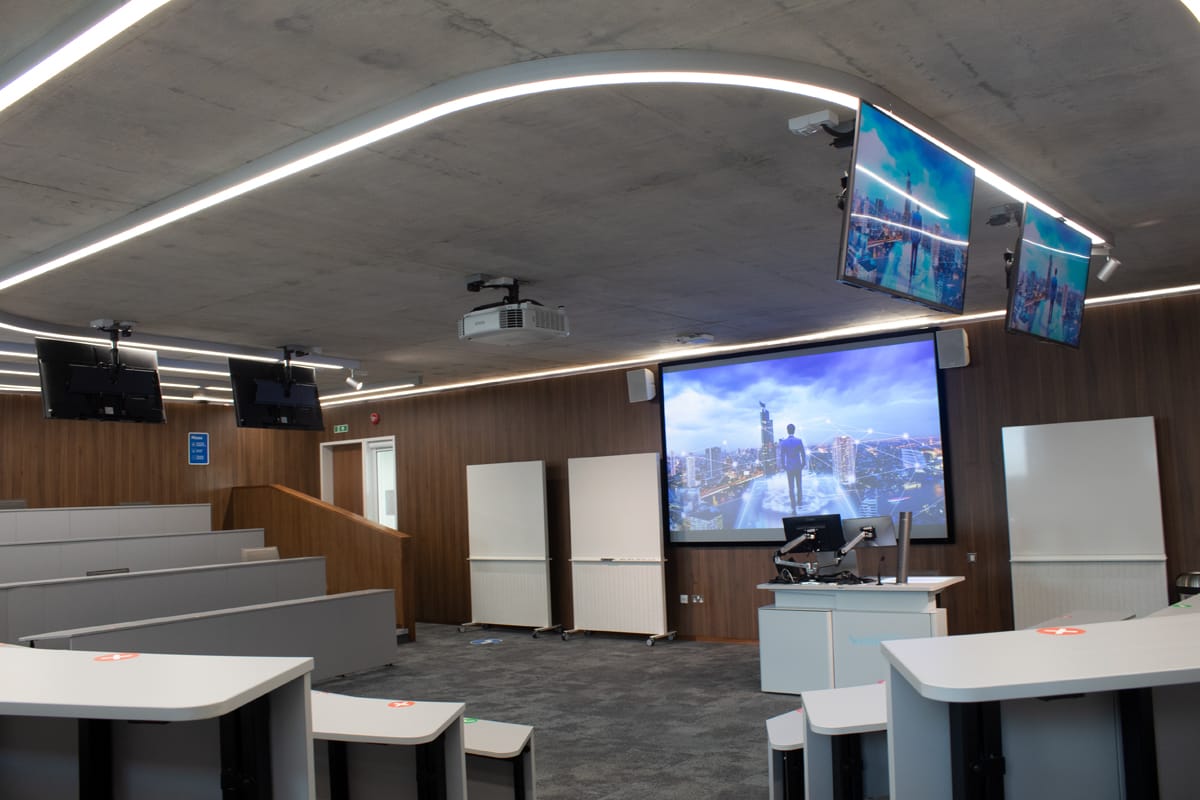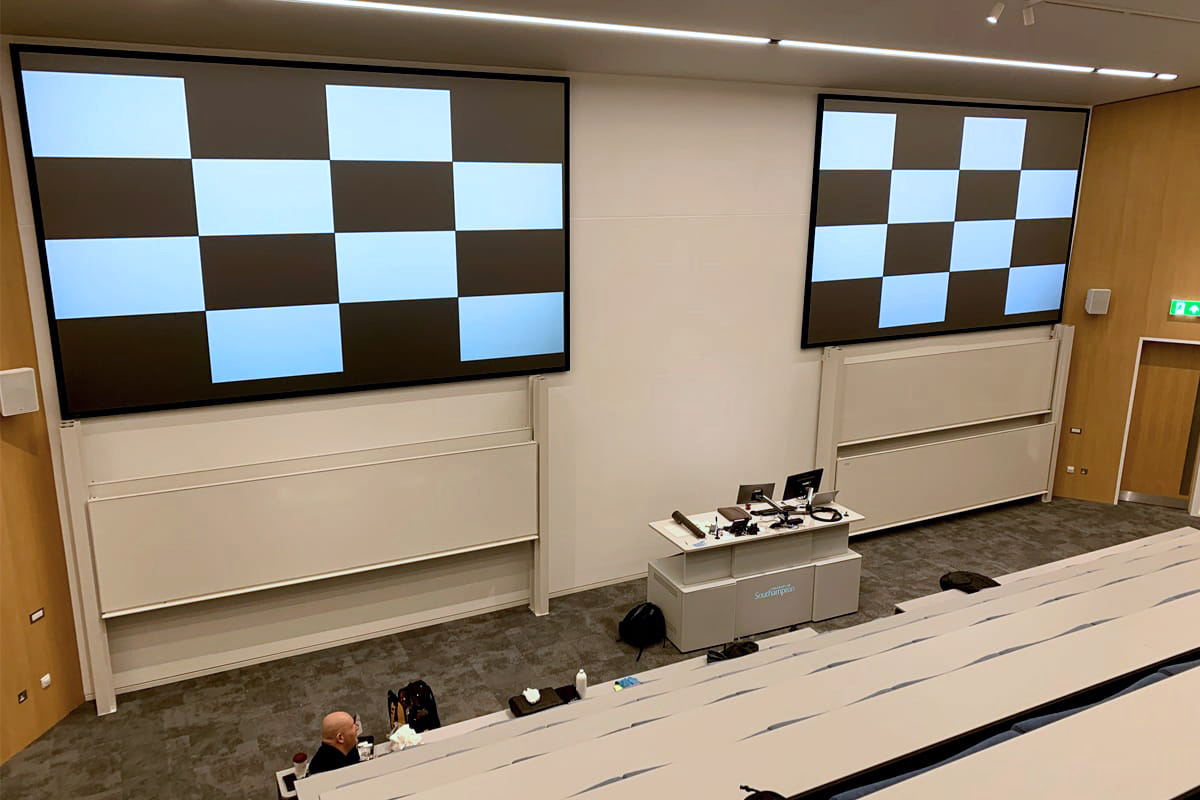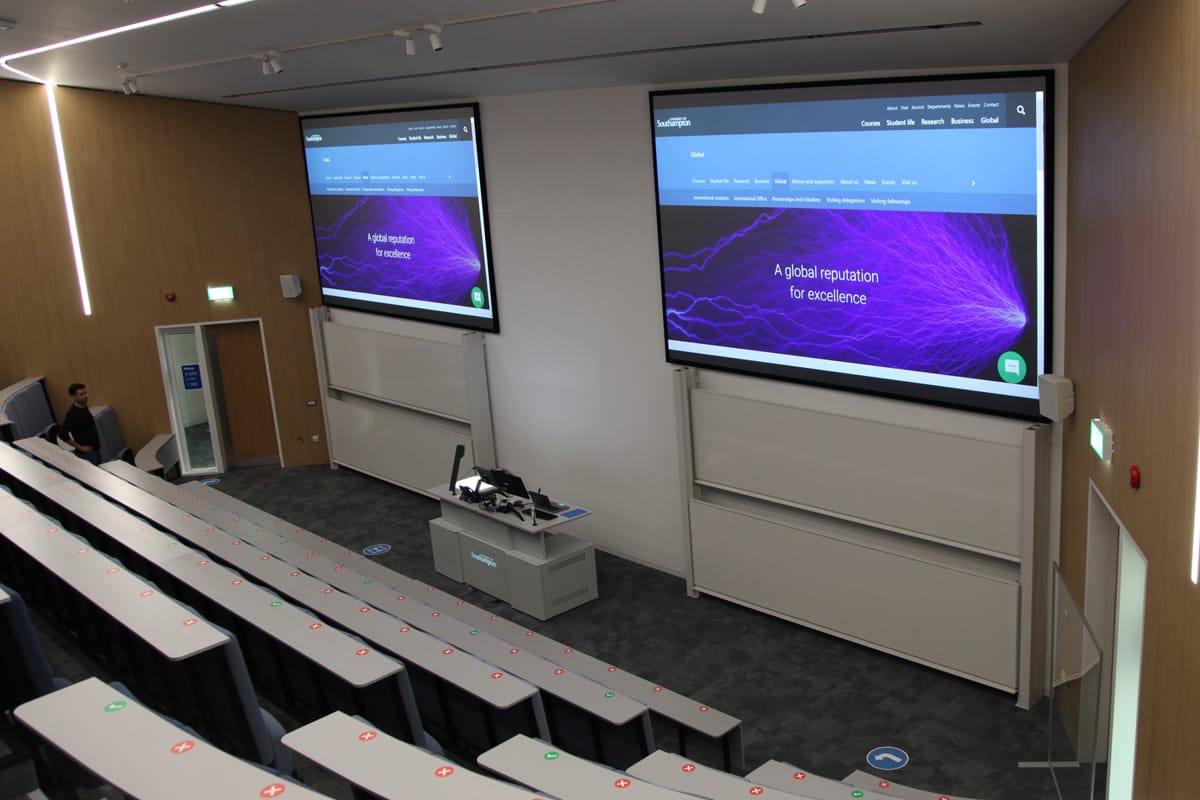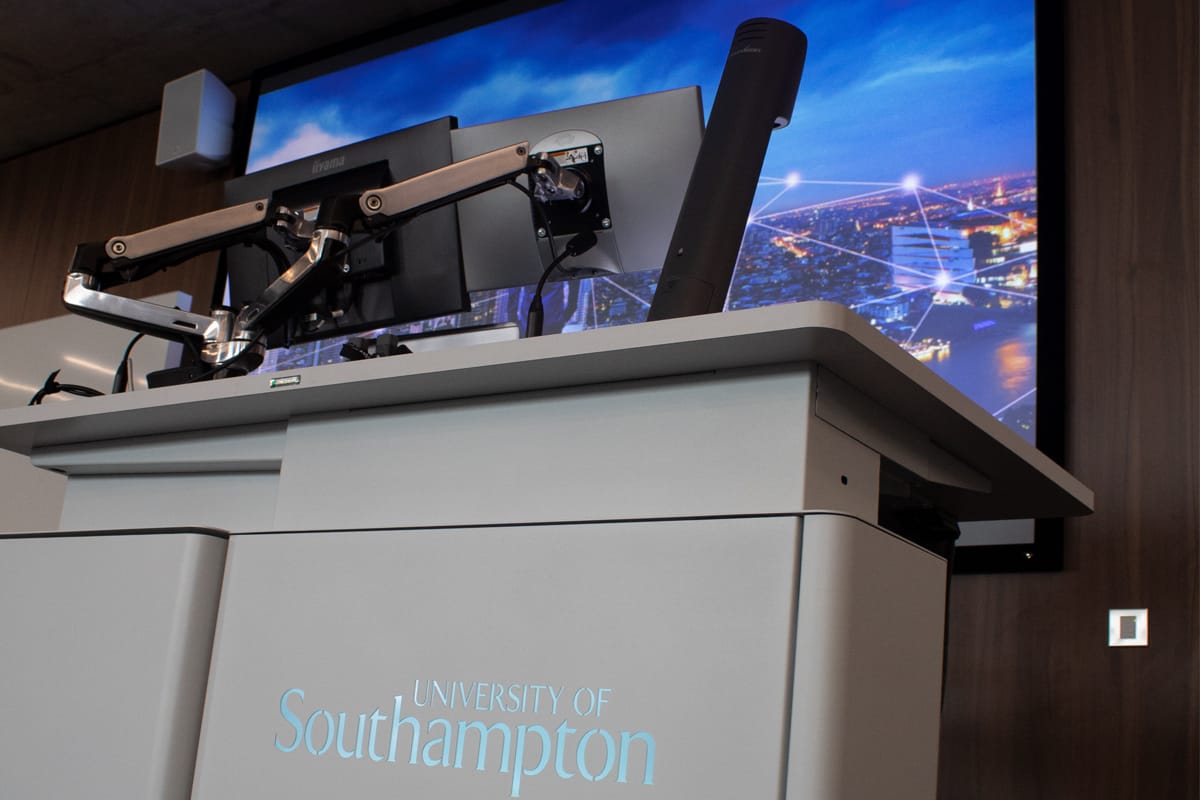 ---
Posted: 26th January 2021
---
Tagged in...
Categories