VDL Digital Canvas Curved Displays
Taking the Microsoft Teams Front Row user experiences to new levels.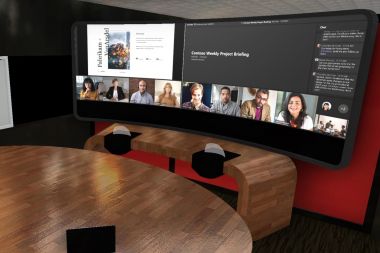 Take the user experience to even greater heights with our VDL Digital Canvas Curved Displays. The curved format creates an intimate and impactful user experience, enhancing the feeling of closeness and spontaneity between in-person and remote participants.
The demand for hybrid meeting and blended teaching spaces shows no sign of slowing down. The latest developments in Microsoft Teams Front Row highlight the importance of using the right size and type of display to facilitate a seamless and inclusive experience for remote and in-person participants.
---
Find out how Microsoft Teams Rooms represent the future of meeting spaces
---
Most exciting is the immediate addition of the new 21:9 widescreen format, and this is just for starters. Microsoft is already showing super-wide 32:9 display examples, creating excitement and demand.
We have turned these 'displays of the future' into the 'displays of today'. With our unique design and engineering heritage in displays and advanced immersive and simulation displays, we've created the VDL Digital Canvas Curved Displays for clients looking to add another dimension to their Teams Room experience.
---
Microsoft's vision for the future of meeting rooms
Designed specifically to provide enhanced Front Row experiences, the VDL Digital Canvas Curved Display is available in any size and any aspect ratio and offers consultants, specifiers and integrators the chance to offer the most advanced options possible. This unique display features the same technology and specification options as the VDL Digital Canvas - but with a curved screen for a more immersive experience.
---
Why choose VDL Digital Canvas systems?

HIgh resolution 4K UHD resolution (pixel shifted)
Futureproofed for increases in VC resolution and quality

120" and 140" standard sizes
Viewable from everywhere in the room. Important content in Teams/Zoom windows can be read at the back. Remote participants can be lifesize

Bespoke sizes up to any size and aspect ratio
Perfect display sizes for any size or shape room

Complies with AVIXA standards
Eliminate guesswork when choosing your displays

Completely matt screen surface
Perfect for all-day viewing without creating asthenopia (eye strain)

180-degree viewing angles
Viewers can see perfectly, even in wide room configurations

Standard and bespoke offerings for image luminance ('brightness') and contrast
Ensure each display exactly matches individual room lighting condition

Standard, bespoke finishes available -
plus structure only for finish by interior designer/ architect/ contractor
Displays match room design perfectly

Self-contained freestanding units
Zero impact on room structure or finish. Installs (and de-rigs) quickly with zero mess. All equipment contained within unit

Comprehensive projector management software
Perfect for enterprise-level deployment and multi-campus locations

Runs off 13A plug (240V)
Use standard power socket. No special power supply needed

Low cost of ownership
Ultra-low running costs. Zero maintenance laser projector

Most environmental option
All parts can be repurposed/recycled. Epson has TCO standard.
---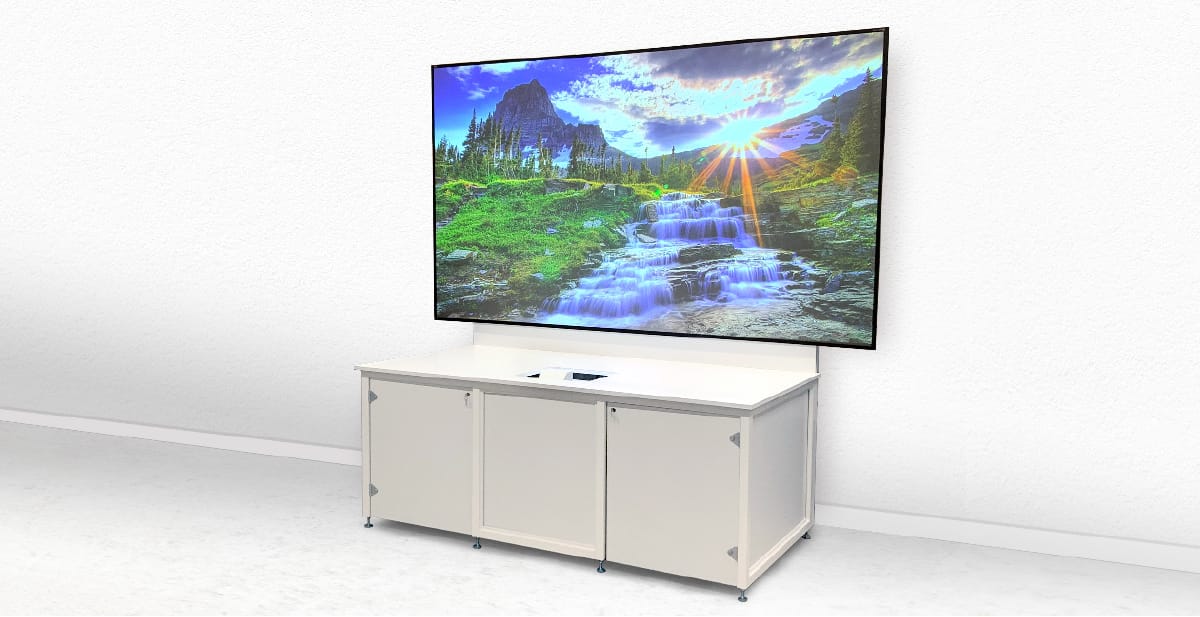 View the full range of VDL Digital Canvas displays.
The all in one large screen optical projection system includes wall-mounted and standalone unit options in a full range of sizes.
---
Explore by Technology