Complete Laser Display XL bundles for HE/FE from 130"
Simply the best large-screen display solutions for Higher and Further Education.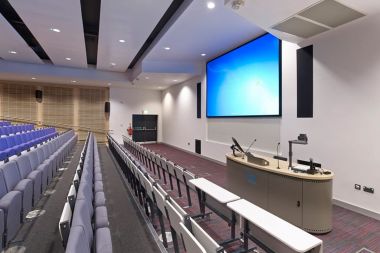 Display solutions from 130" up to any size.
The number one choice for universities and colleges with the very best display experiences for learning and teaching - and at a fraction of the cost of flat panel and large format displays.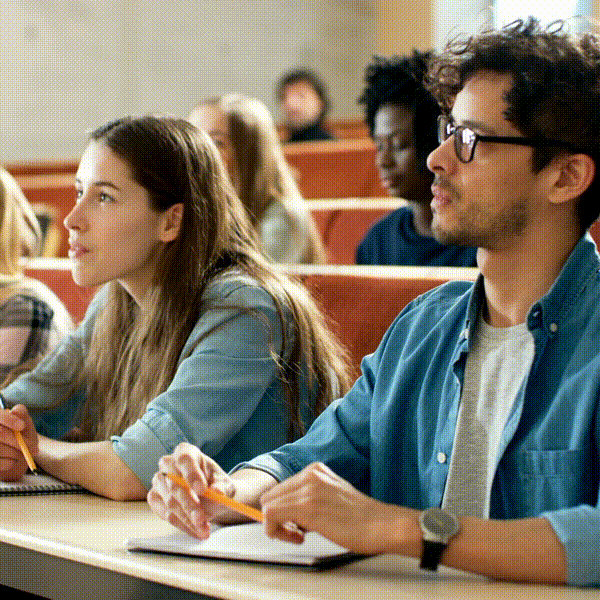 ---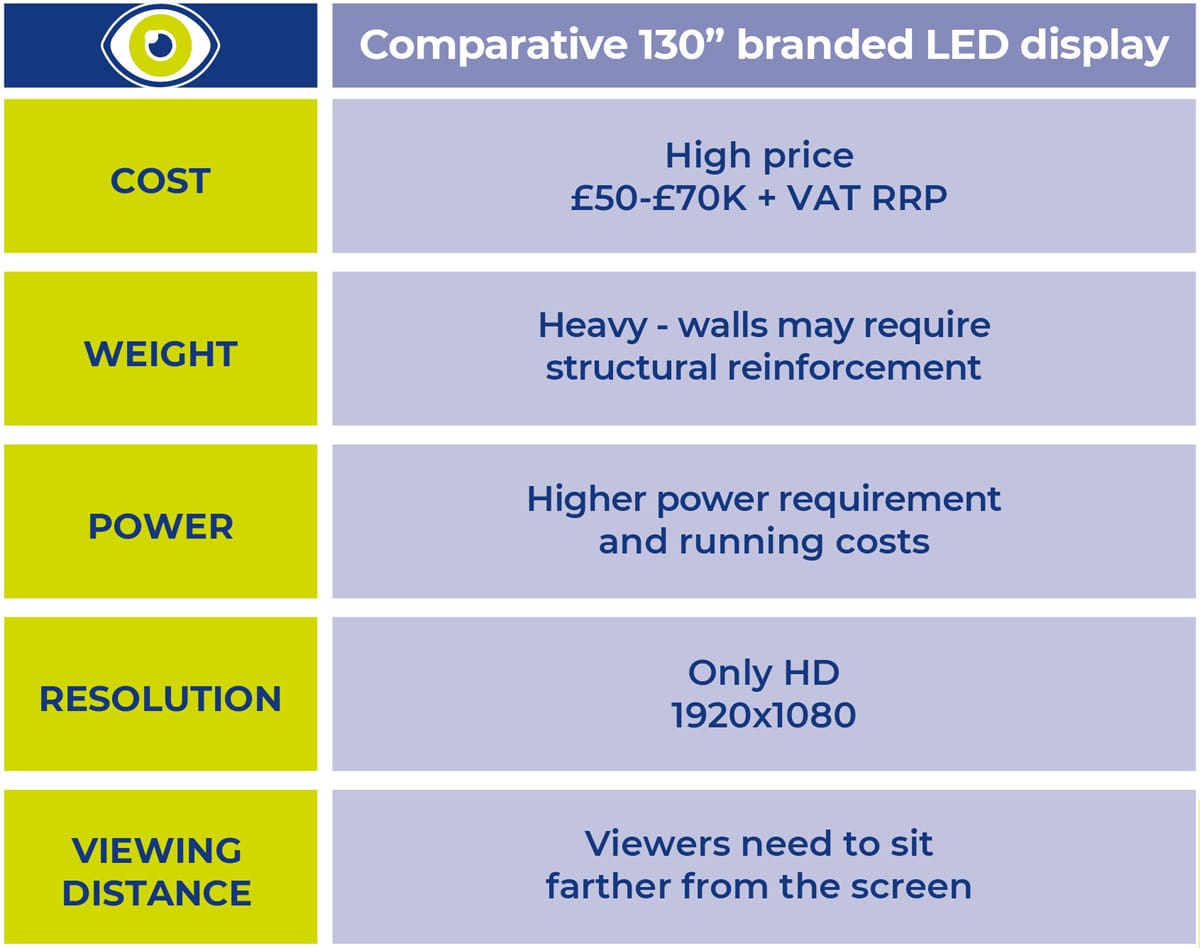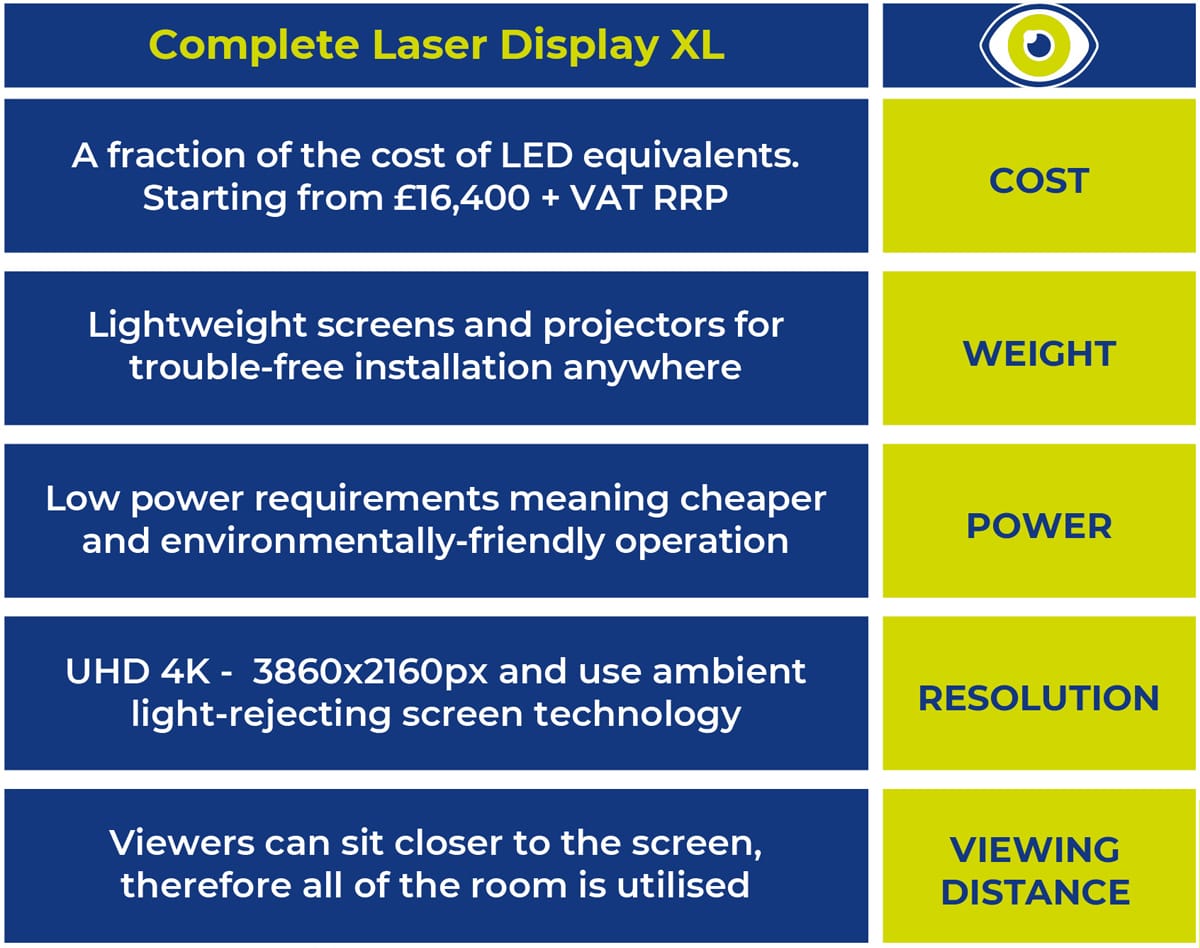 For more details and specifications, please download our CLD XL for HE and FE brochure below

---
As the name suggests, the Complete Laser Display XL is a flexible solution that includes everything you need to create an exceptional extra-large screen viewing experience. As your expert displays partner, we work with you to fully understand your requirements and guide you to exactly the right solution.
Screen
Choose your preferred dnp Supernova ambient light rejecting (ALR) optical screen. These true ALR screens provide up to 7x the image contrast of conventional projection screens, offering outstanding image quality, even in brightly lit spaces which makes them the ideal choice for educational environments. The range includes framed, frameless and electric drop-down screens. View our ALR screen selector.
---
Projector
Epson high brightness 3LCD laser projector. Epson projector management software allows you to remotely monitor and maintain the largest display estates, including receiving automatic email alerts. With their iProjection software, you can add interactivity and collaboration. Plus, a 5-year warranty gives complete peace of mind.
---
Mount
Complete Epson mounting solution (for UST or standard lens projector).
---
Optional extras include:
Installation CAD drawings, site survey, installation, furniture and bespoke framework.
---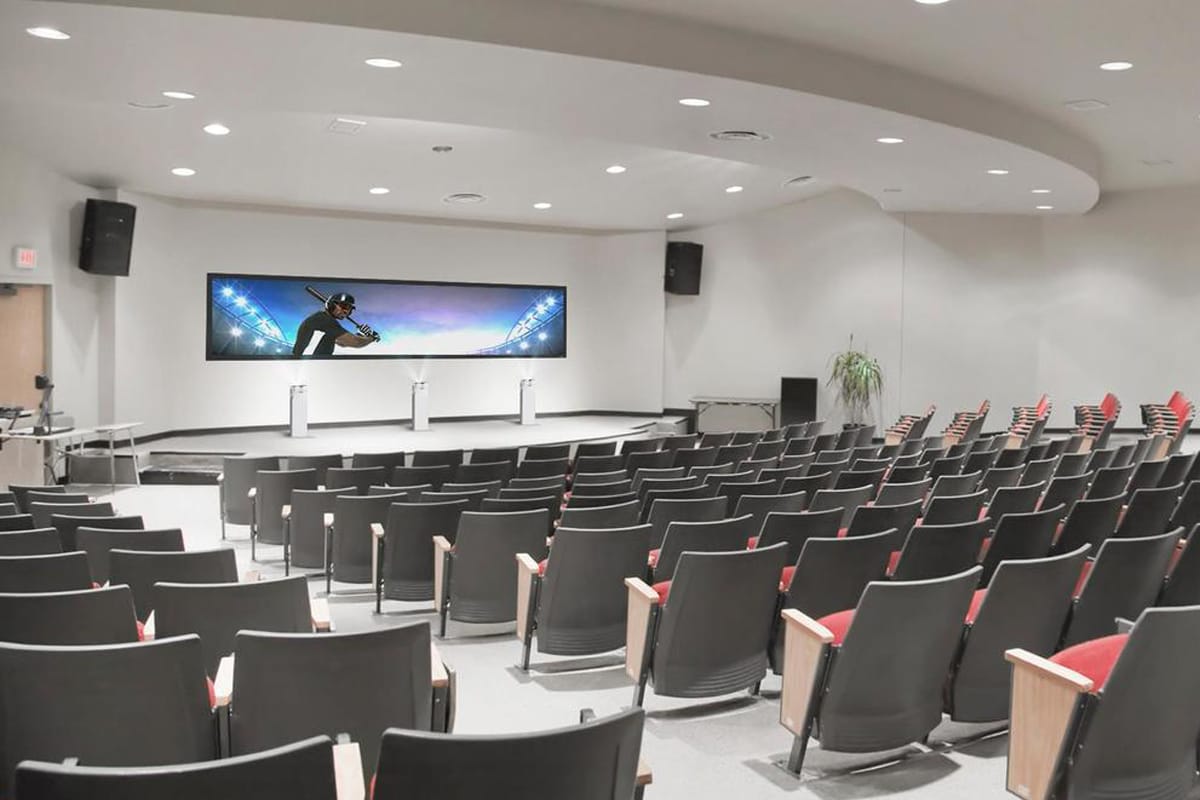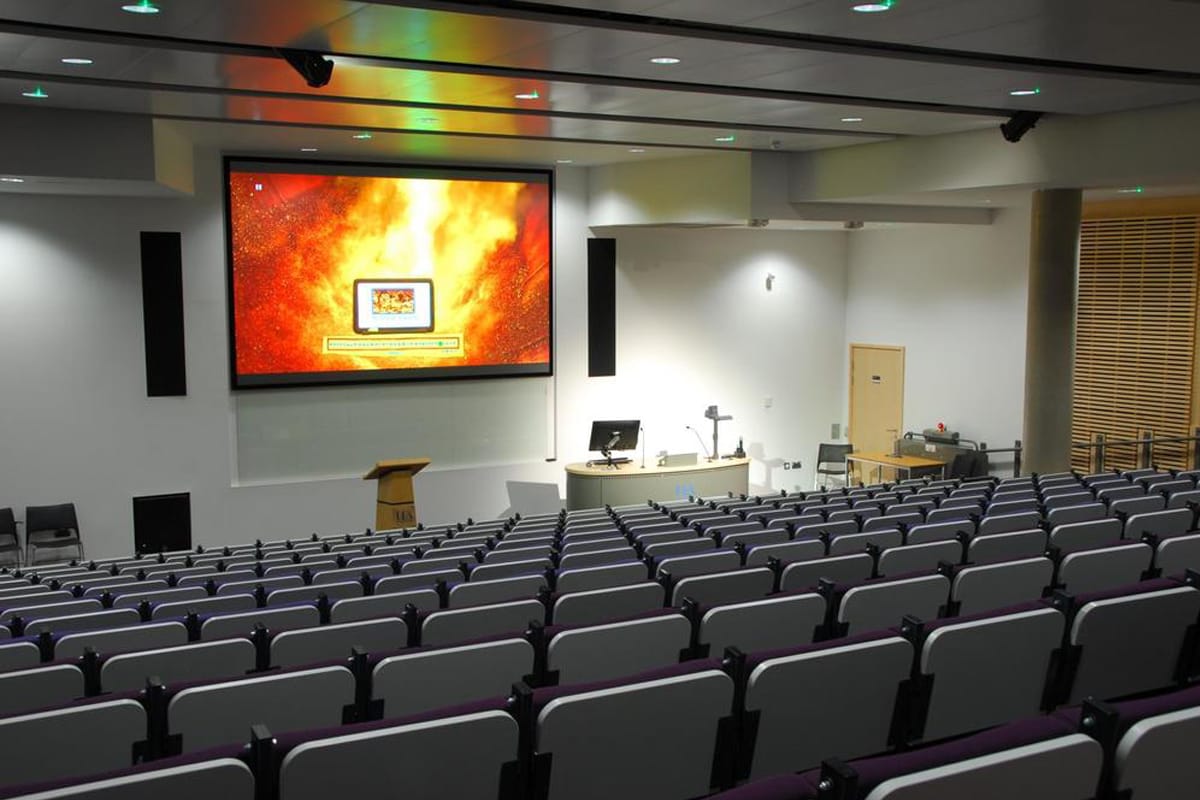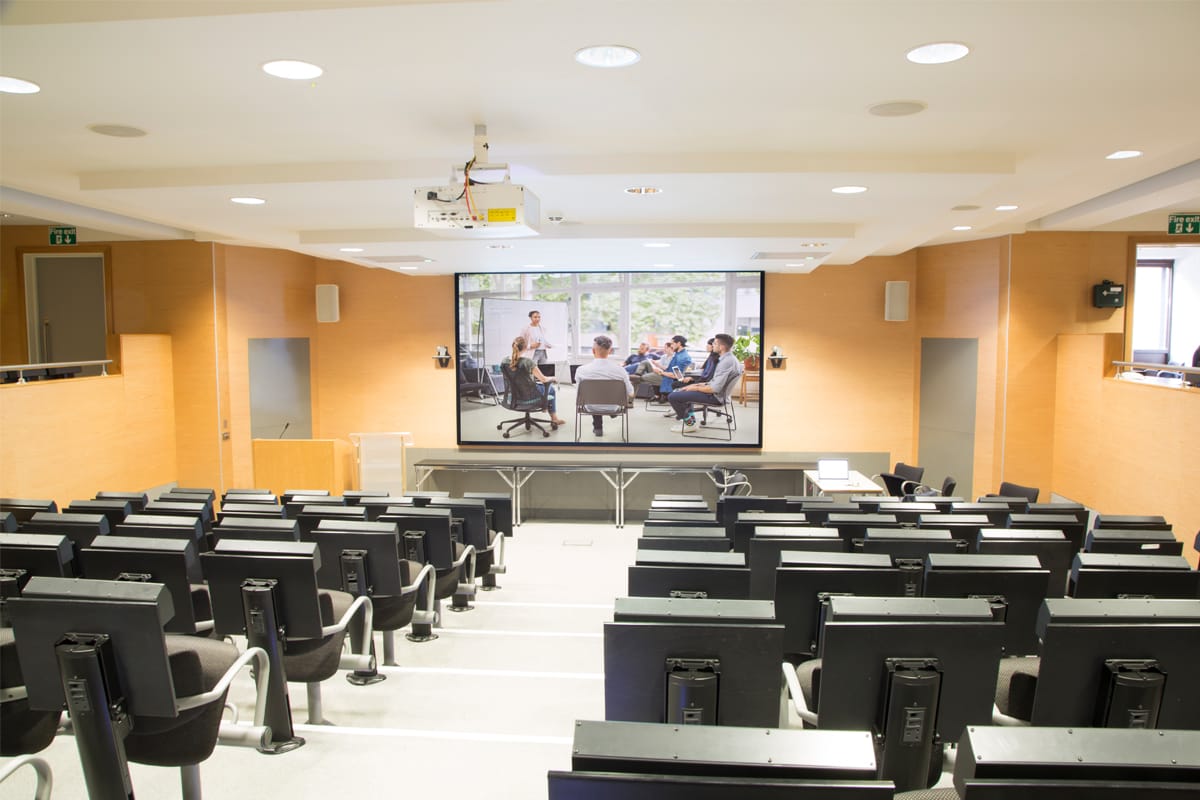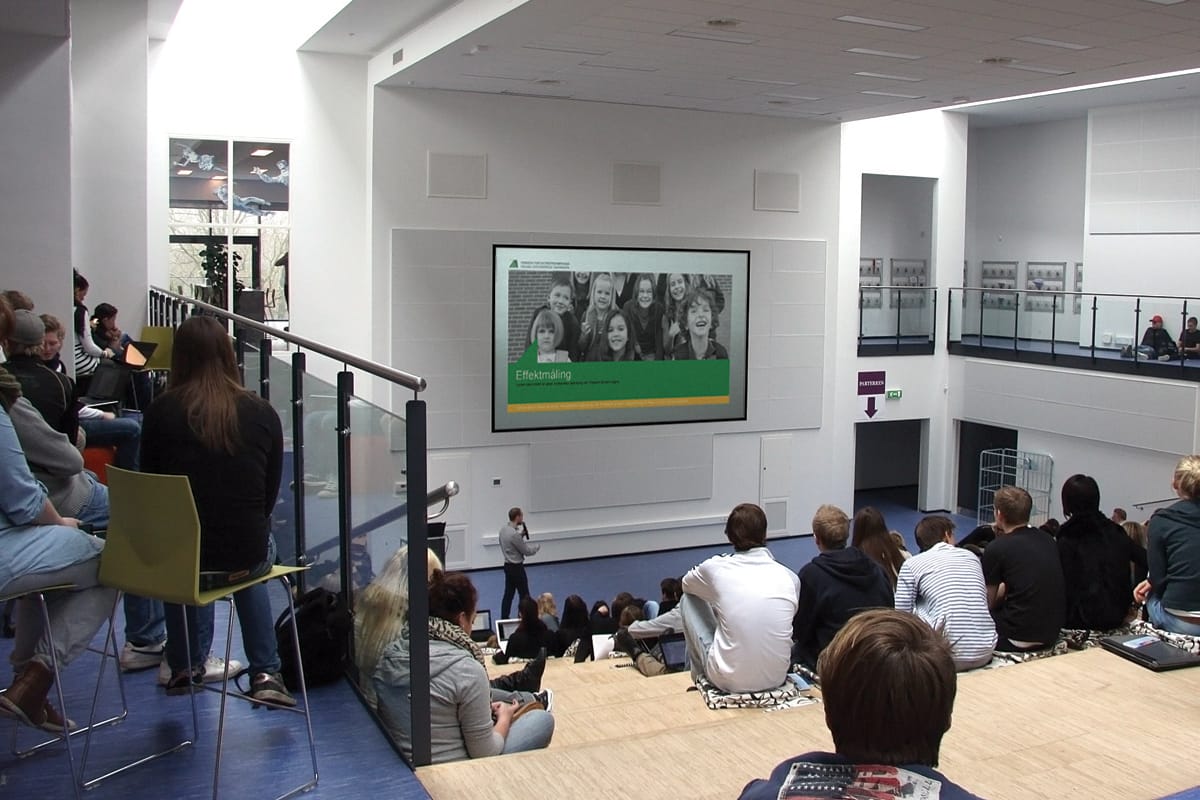 Bigger, cheaper, better…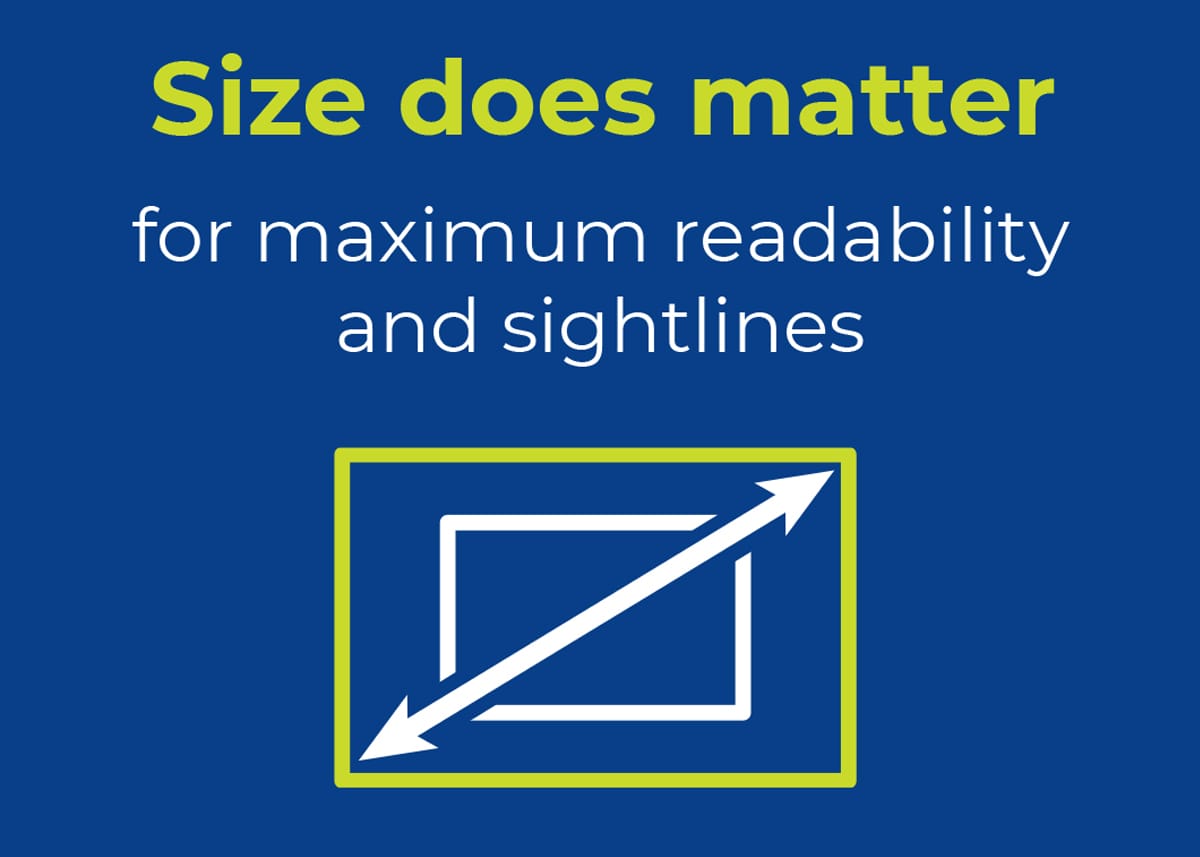 Choose Complete Laser Display XL for displays that deliver exceptional teaching and learning user experiences. These displays are guaranteed to meet the requirements set out in AVIXA's DISCAS and PISCR/ISCR standards - the global AV standards that ensure displays consistently meet minimum size (DISCAS) and quality (PISCR / ISCR) needs for their viewers. Find out more here.
Image resolution is mission-critical and often overlooked. The vast majority of source content from computer and video is HD (1920 x 1080 pixel resolution). If you don't match the screen resolution to the content source resolution, your image isn't sharp and your investment is wasted.
Resolution is never a problem with projection - it's pixel sharp at all sizes.
Resolution is problematic with direct view LED as it has a fixed relationship with the LED size 130" LED is fixed at that size because its LED elements are fixed 1.5mm apart.
Complete Laser Display XL scales to any size, always maintaining resolution. The correct choice for teaching and learning, so you can choose the right size display for your needs, up to any size.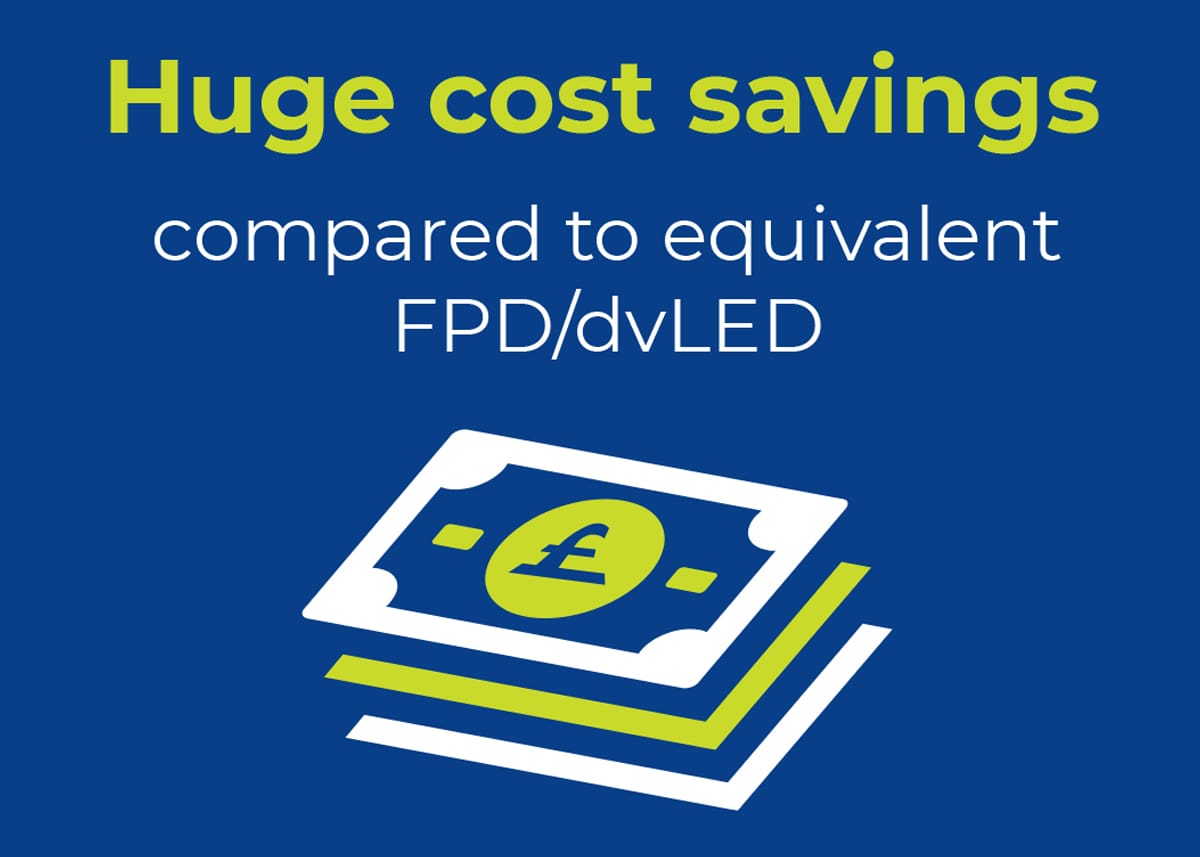 Complete Laser Display XL - budget-friendly displays at all sizes with no compromise on performance.
In fact, with CLD XL, the bigger you go, the better value you get. The cheapest recommended end-user price of a 130" dvLED display is £50,000 + VAT meaning it costs £10,700 per square metre, whereas the equivalent CLD XL display is £16,400 and £3,500 per square metre - and it's 4K! In fact the bigger you go, the more dramatic the cost differences are - and the CLD XL has both better image quality and is best suited for teaching and learning!
From planning through installation, running, right through to their green end-of-life disposal, CLD XL give you the best and lowest-cost options. Installation is quick and easy, only needing standard walls and no additional structure. The 130" model typically consumes 14% the power of its dvLED equivalent. At end of life, they are recycled instead of creating tens of kilos of toxic landfill.
---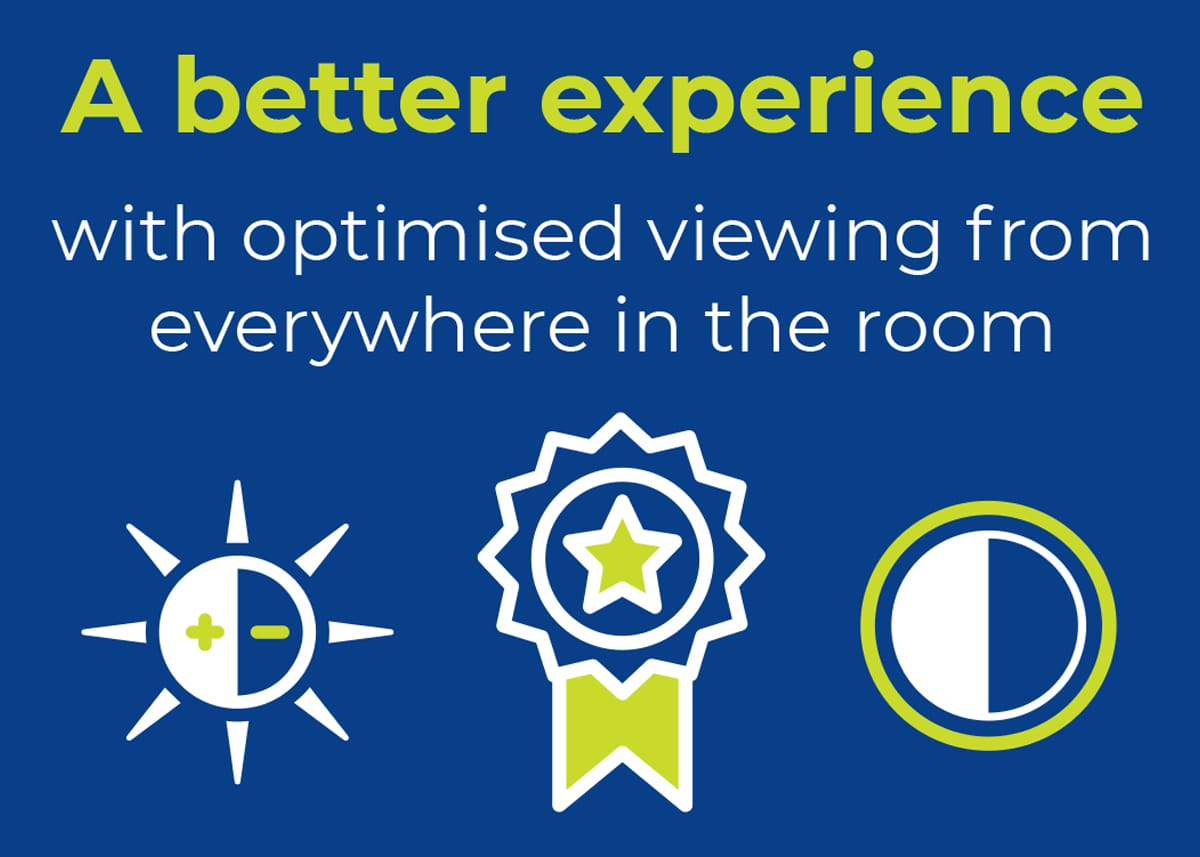 This is not your average projected display. Complete Laser Display XL features a powerful combination of laser projection with ambient light rejecting optical screen technology, to eliminate the problem of washed-out images even in brightly lit conditions, and exceed AVIXA's ISCR and PISCR image contrast standard - the gold standard for image quality.
Optimised for comfortable viewing, viewers can sit closer to the screen than with LED displays and the non-reflective screen means no 'cheap seats' created by distracting reflections from lighting and daylight (as with FPD/LED).
---
---
Case study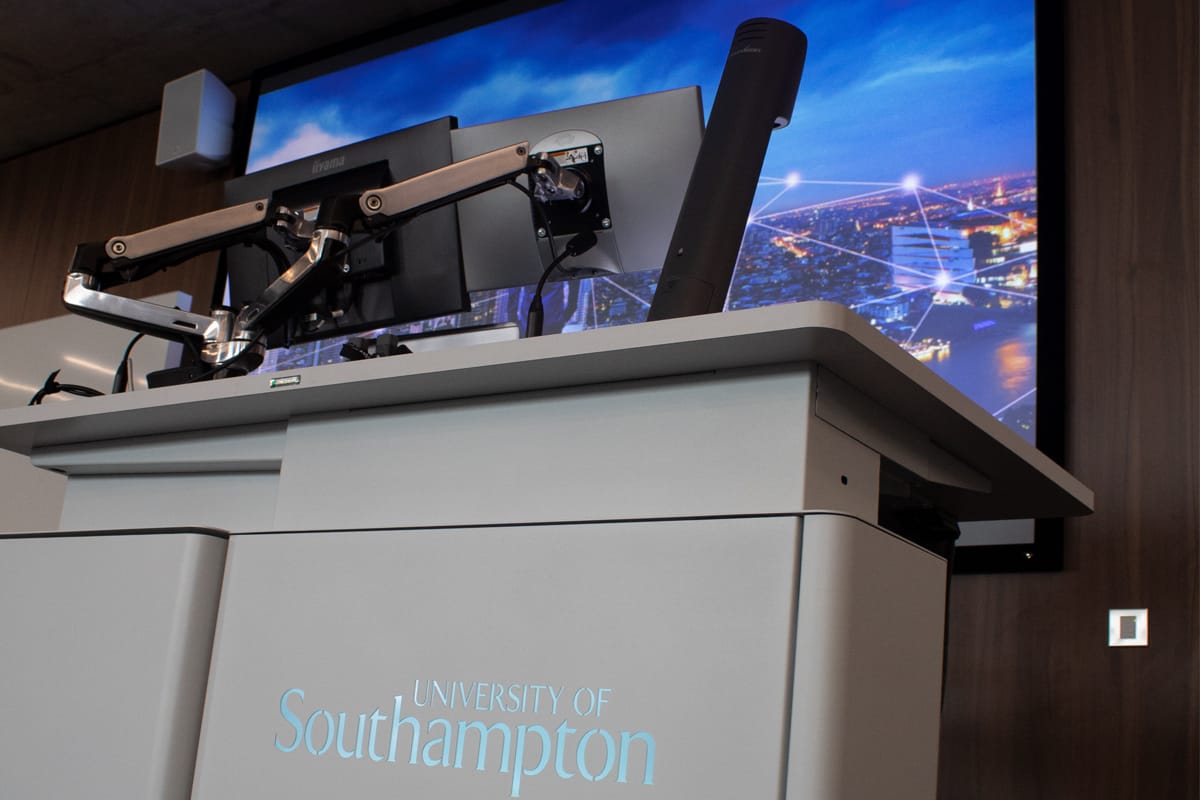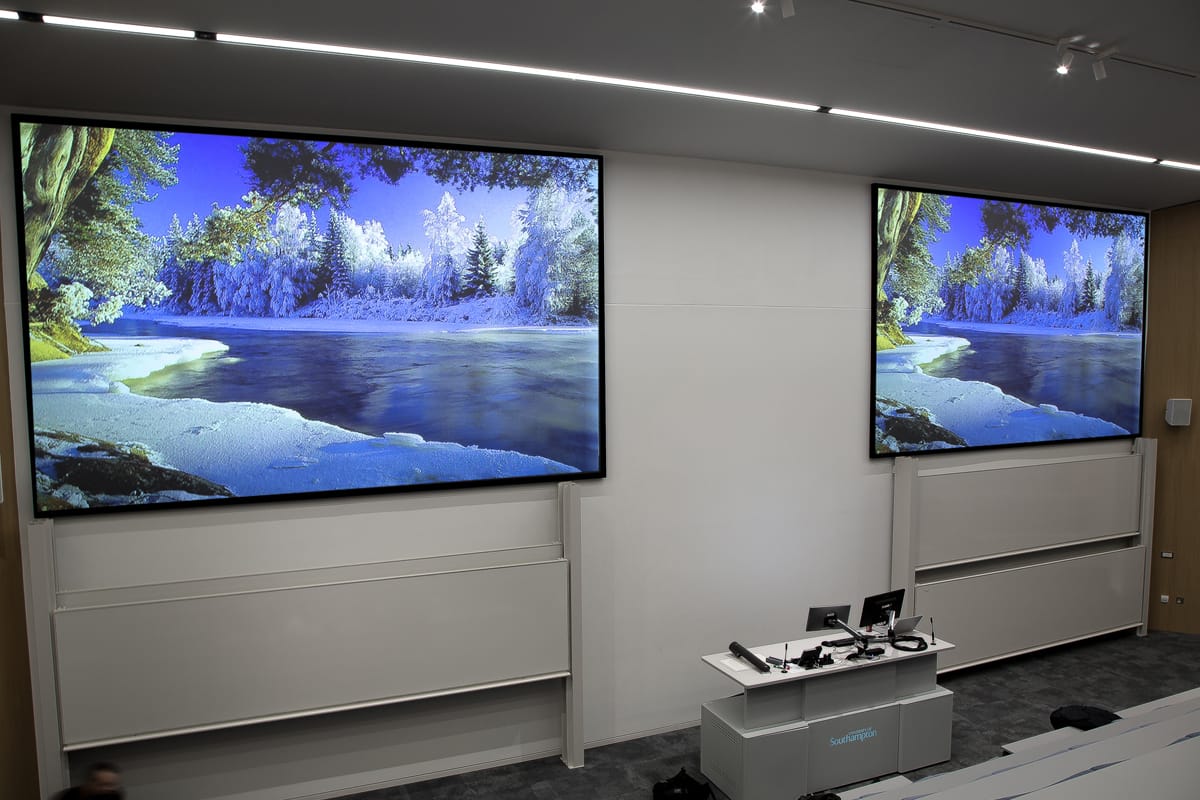 See our installation case study for Southampton University which used 3 dnp Supernova ALR screens to deliver exceptional results.
View the case study here
---
For screen sizes from 100" to 120" see our Complete Laser Display range…