ProjecTABLE - complete meeting room solution for MS Teams Front Row
Revolutionise the way your clients conduct meetings with this complete furniture and display solution for Microsoft Teams Signature Meeting Rooms.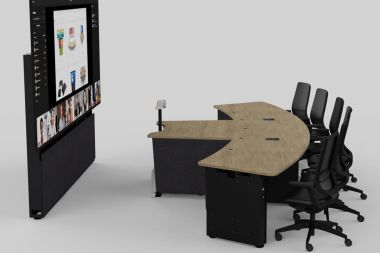 ProjecTABLE boasts a large 152" (3.5m wide) 21:9 display designed specifically for MTR Front Row Signature Meeting Rooms. Comprising a dnp Supernova Infinity ALR screen with an Epson EB-PU 3LCD laser projector, the image quality is second to none.
The innovative design by leading AV and VC standardised meeting room system pioneers, Ashton Bentley, in consultation with our very own Greg Jeffreys - displays, standards and MTR expert, allows meeting participants to experience the Front Row experience from the optimum location, making it perfect for presentations, video conferencing, and more.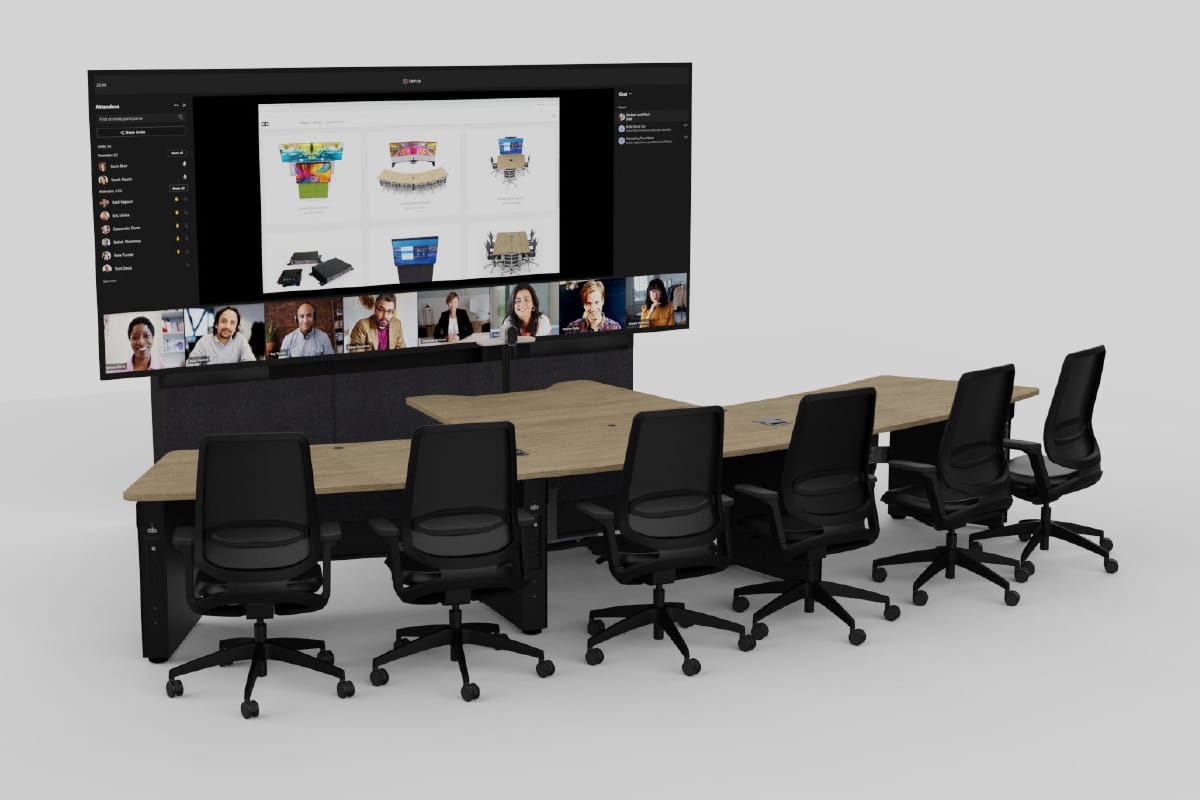 But that's not all - this unique system (patent pending) houses the projector within the table structure to prevent accidental damage, trip hazards and complies with US DDA regulations. Your clients can now conduct meetings without worrying about their equipment or their safety.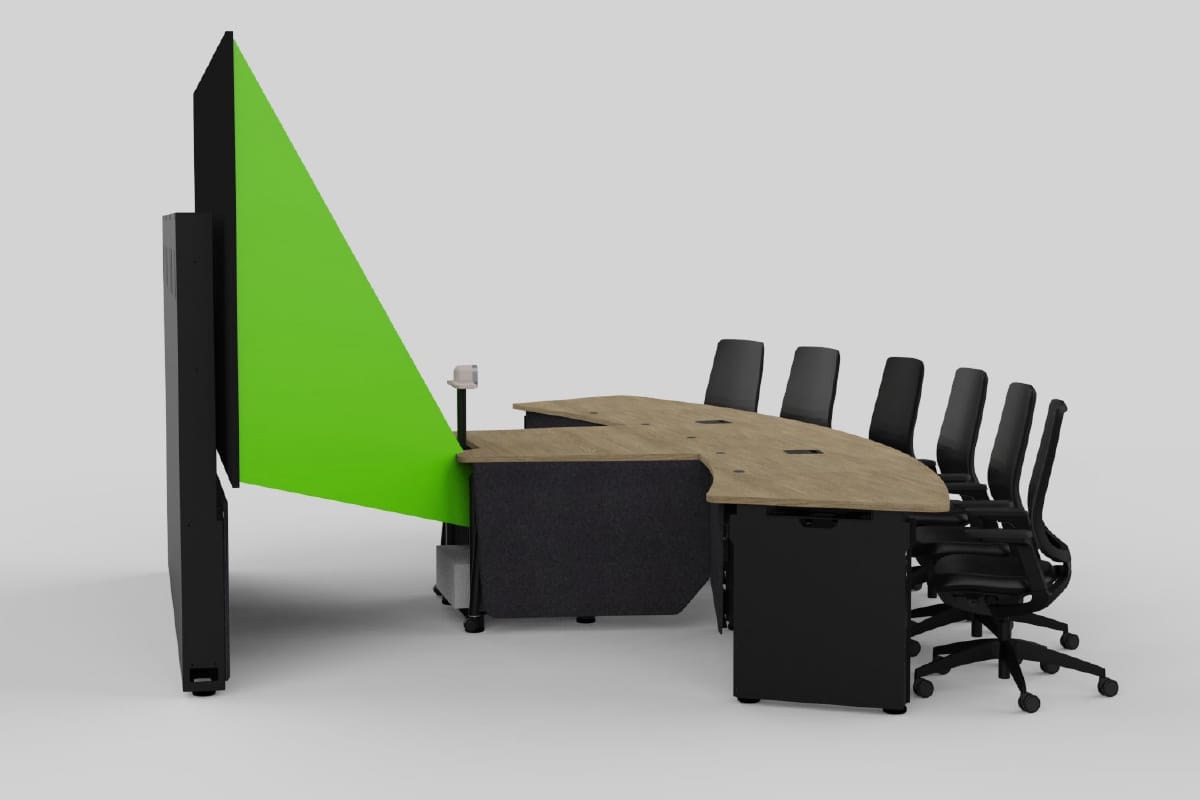 ---
---
But what good is a stunning display without quality audio? That's where the QSC Q-SYS sound system comes in - fully Teams certified and offers spatial audio, making it ideal for immersive meetings.
And with the Huddly S1 Camera located within the eyeline, your clients can enjoy a horizontal field of view of 120 degrees, ensuring all participants are clearly visible.
---
ProjecTABLE is not just about beautiful design - it's built with functionality and compliance in mind. It fully complies with AVIXA DISCAS (image size) standard for perfect image size and viewing angles - horizontal and vertical - for all six meeting participants. Plus, the sophisticated light rejection display technology of the dnp Supernova ALR optical projection screen and Epson 3LCD laser projector, gives the brightest and highest contrast image and no distracting reflections even in rooms with high ambient lighting levels.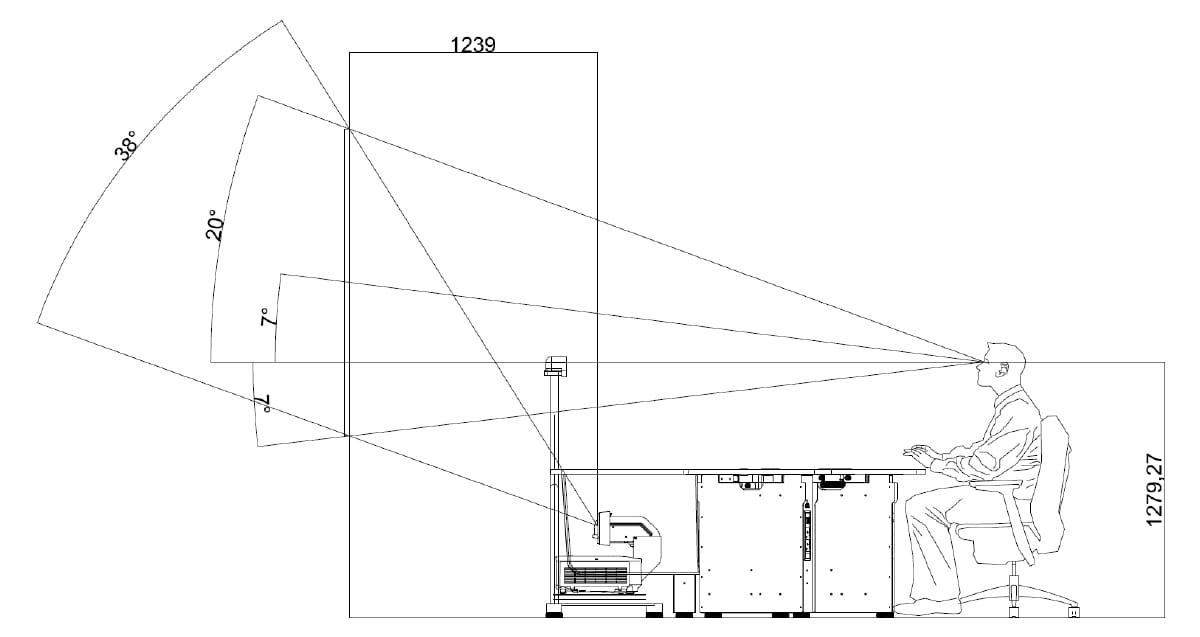 ---
ProjecTABLE is the complete meeting room system that offers the ultimate audio-visual experience for your clients. It's time to take their meetings to the next level.
Ordering is easy with a single part no. (SKU).
---
Summary
A complete fully integrated system providing the best-in-class solution for Microsoft Teams Front Row Signature rooms

Single part number for easy ordering

Large 3.5m wide, high brightness image, which works in high ambient lighting environments

Everything included in a tool-less, rapidly deployable format using high-quality components selected to work together to deliver the optimum experience

DDA-compliant design with no trip hazards

Available in a number of different finishes with optional matching chairs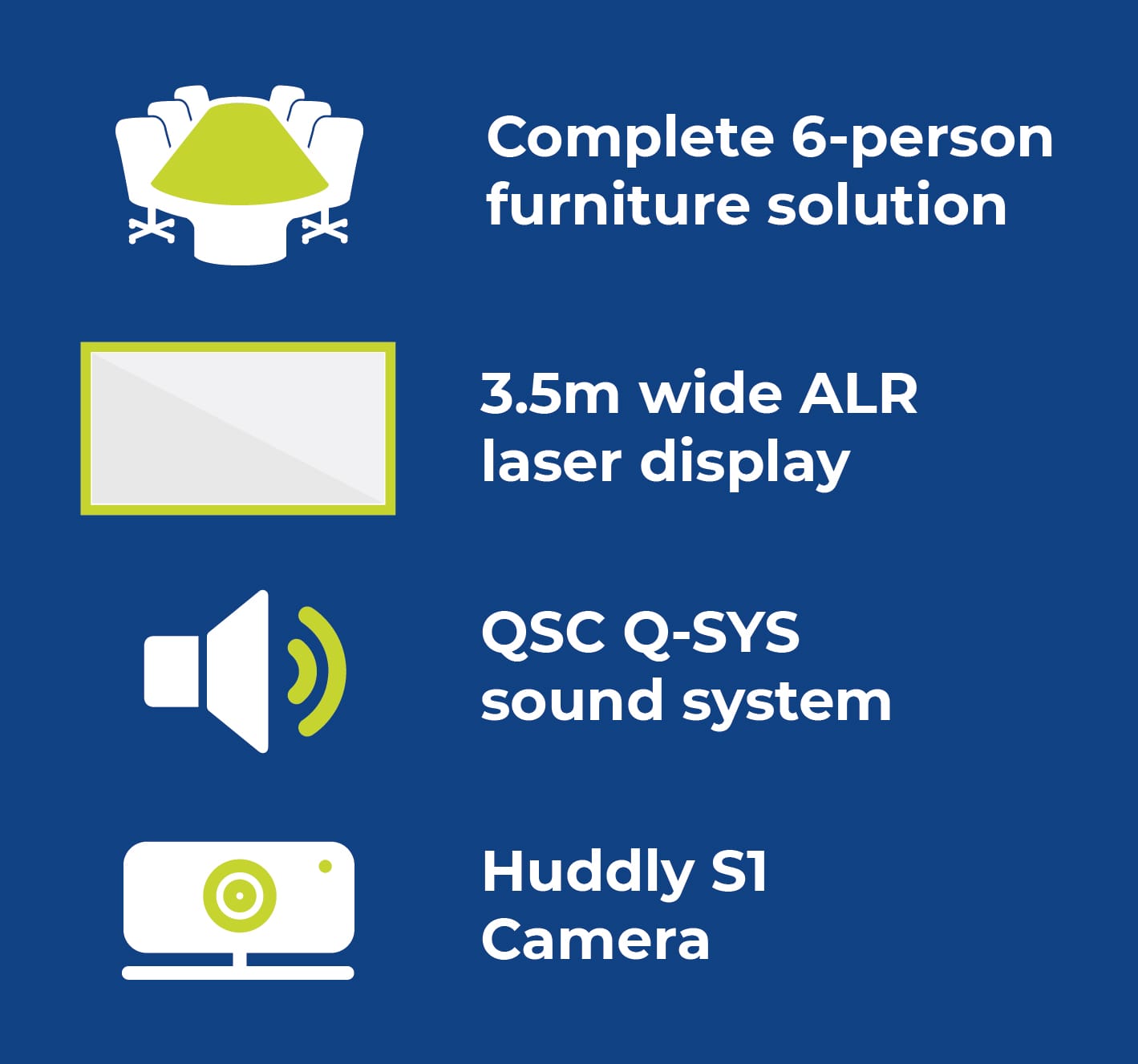 ---
Key Points
ProjecTABLE
Microsoft Teams Signature Meeting Room complete furniture and display system
Furniture
Complete furniture solution for meeting rooms designed specifically for MTR Front Row Signature Meeting Room
Sleek and modern design
High-quality materials and finishes
Ergonomic chairs and tables
Integrated cable management
Customizable options for different room sizes
---
Display
Large 152" (3.5m wide) 21:9 dnp Supernova Infinity ALR screen
Epson EB-PU 3LCD laser projector
---
System
Innovative design by Ashton Bentley and Greg Jeffreys
Projector housed within table structure for safety and compliance
Complies with US DDA regulations
---
Room size
The entire six-seat system sits within a minimum room space of 6m wide by 4m deep.
Audio
QSC Q-SYS sound system
Fully Teams certified
Offers spatial audio
---
Camera
Huddly S1 Camera
Horizontal field of view of 120 degrees
---
Functionality
Complies with AVIXA DISCAS standard for image size and viewing angles
Suitable for six meeting participants
Best-in-class ambient light-rejection display technology for the brightest and highest contrast image and no distracting reflections even in rooms with high ambient lighting levels
Allows meeting participants to experience the Front Row experience from the optimum location, making it perfect for presentations, video conferencing, and more
Tool-less, rapidly deployable format using high quality components selected to work together to deliver the optimum experience
---