Wallmate Flat Panel Display Mounting Solution
Install flat panel displays (FPDs) and large format displays (LFDs) quickly and accurately with Wallmate. Save time and money with this revolutionary in-wall mounting system.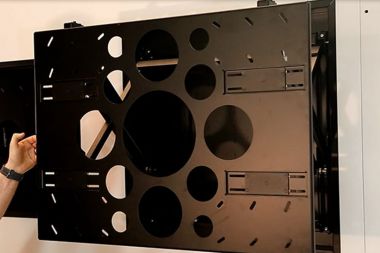 Wallmate - the problem-solving in-wall mounting solution
Created in the US by rp Visual Solutions, the AV design and engineering specialist, Wallmate was designed to eliminate the costly and time-consuming issues that are often associated with mounting FPDs and LFDs. This fully integrated flat panel mounting system is quick and easy to install into the wall between standard studs. No fuss, and no building extra studs.
Eliminate installation and on-site team cooperation issues
The top and bottom of the box is where all the data, electrical, and AV lands. Each box has multiple single gang box and conduit landing locations; up to 12 conduit and 8 single gangs.
Display size changes? No problem!
The size of the back box stays the same, simply put the new size display on the Wallmate system and you're done.
Save time at every stage of the construction process
Display installation is faster because the universal adapter means AV techs will no longer have to carry multiple adaptors or cut parts to accommodate different displays.
Minimise room down time
Quick-remove device peripheral plates allows AV and IT teams to create spare parts packages that enable very quick, ultra-short room exchanges.
Super stable, super strong
Wallmate can mount displays from 55" to 98", holding up to 160kg.
Displays push back flush to the wall

Backbox is pre-installed by the main contractor - no structural fix needed from AV crew

All equipment and ancillaries are installed in a solid backbox, mounted in the wall

Equipment is pre-populated and tested offsite on a demountable backplate

AV crew fits and connects pre-tested backplate with all media players, controllers, signal management (everything!)

The display is fitted with Wallmate mounting plate

AV crew hangs the panel on Wallmate fold-out arms in seconds, connects the panel, and pushes it back in place. Finished in minutes, move onto the next one!
A crew of two can install dozens
of systems in a single day.
---
Find out more
For more information or to purchase a Wallmate product, please contact our expert team.
---
Wallmate 16
Wallmate 32
Wallmate 32Max
Capacity
57kg
135kg
160kg
Back box Dimensions HxWxD
589 x 365 x 100mm
589 x 775 x 100mm
787 x 775 x 100mm
Product Weight Approx
20kg
34kg
45kg
Warranty
1 year
1 year
1 year
Minimum Display Size
50" and above
70" and above
70" and above
Knock outs
4 single gang
8 single gang
8 single gang
Conduit Points
3 top /
3 bottom
6 top /
6 bottom
6 top /
6 bottom
Internal Box Space
213 x 264 x 100mm
508 x 264 x 100mm
607 x 483 x 97mm
Wallmate is the only mounting system
in the world certified by Crestron.
---
Watch the videos below to see Wallmate in action…
---
Explore by Technology