Wallmate Display Mounting Solution
Wallmate Universal integration system provides support for a flat panel display by integrating the back box, display mount, and AV device mounting into a complete system, all while keeping the display within ADA compliance.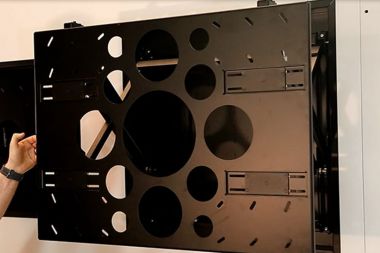 A new universal mounting adapter, that solves for non-compliant VESA displays, is standard with every Wallmate model. Now universally compatible, rp Visual Solutions' Wallmate is sure to be the standard for flat panel mounting!
Key Benefit to Wallmate - SAVE TIME
The Wallmate system was designed to save time at every stage of the construction process from front start to finish: Design, Rough In, Off Site Prep, and On Site Installation. Display installation is faster because the universal adapter means integrators will no longer have to carry multiple adaptors or cut parts to accommodate different displays.
Additional Wallmate Universal Benefits
Mounts direct to studs = no blocking
Removable device mount plates = Allows off site assembly line assembly
Can mount displays from 55" to 98", holding up to 160kg.
Just 38mm thin, back of display to wall, on the moving X-Arm. Assists with ADA Compliance
Huge amounts of horizontal and vertical offset
Built to the strength and rigidity that RPV is known for
Knock outs for electrical boxes and conduits
Lots of equipment storage space
Universal adapter plate is available separately for any previously integrated Wallmate mounts. Part #RPWM-UNV64
Find out more
For more information or to purchase a Wallmate product, please contact our expert team.
---
Wallmate 16
Wallmate 32
Wallmate 32Max
Capacity
57kg
135kg
160kg
Back box Dimensions HxWxD
589 x 365 x 100mm
589 x 775 x 100mm
787 x 775 x 100mm
Product Weight Approx
20kg
34kg
45kg
Warranty
1 year
1 year
1 year
Minimum Display Size
50" and above
70" and above
70" and above
Knock outs
4 single gang
8 single gang
8 single gang
Conduit Points
3 top /
3 bottom
6 top /
6 bottom
6 top /
6 bottom
Internal Box Space
213 x 264 x 100mm
508 x 264 x 100mm
607 x 483 x 97mm