Blinds and natural light control for Microsoft Teams Rooms
Light control can unlock and enhance the viewing experience, often saving additional expense on unnecessary technology upgrades.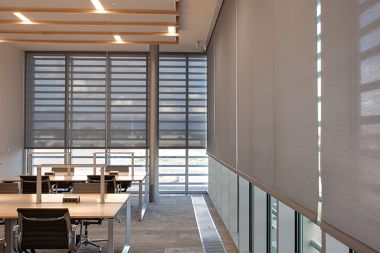 Latest studies show that people value natural light and proximity to windows above almost any other built environment attribute. But natural light and sunlight can be both a blessing and a curse. Daylight needs to be managed, blocked - or even harvested. It can create problems to room users and on the impact to the space's design and facilities. Refer to the section on image contrast in our Visual Displays 8 Essentials in Specifying Screens and Displays Guide.

---
Light from windows can cause veiling glare on the screen and other reflective surfaces, or even disability glare. Translucent blinds limit these effects, yet still allow good levels to pass through, provided the transmission is correctly specified.

Photos draperinc.co.uk
Daylight can have a negative impact upon video conferencing camera performance (as detailed in the AVIXA/IES Standard Recommended Practice for Lighting Performance for Small to Medium Sized Videoconferencing Rooms) by mixing the high colour temperatures of natural light with the warm colour temperatures. When the quality of the client's VC endpoint viewing is important, fully sealed opaque blinds should be a serious consideration.
Blinds and natural light control is part of our skill set and solutions offered. We provide the design, survey and specification services in addition to a fully serviced supply, installation and maintenance package.

---

---
Euroscreen Flex Shades - Lighting Control for AV Spaces - Find out more
---
Explore by Technology