'AV rises to the challenge' special: the show must go on
When the virus altered our world it also restricted the vibrant live events sector. Technology will play a starring role in creating virtual events as gatherings return in a more socially distanced form in the future.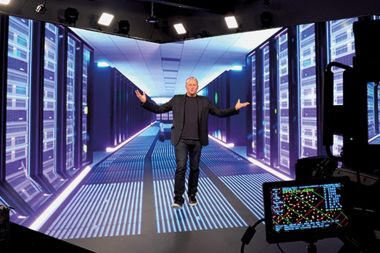 The obstacles Covid-19 has presented the live events sector have also led to innovation, exploration and creativity from many event professionals who leapt into action, transitioning to online and virtual formats. Performances streamed from artists' homes or lockdown virtual festivals using video conferencing platforms have allowed live events to continue – minus the physical gathering element – while some participants donned VR headsets to unite at virtual events, such as HTC Vive's Ecosystem conference or enjoyed in-game gatherings, such as rapper Travis Scott's concert in Fortnite which attracted 12.3 million fans in April.
Beth Prescott, head of events and ceremonies, Queen Mary University of London, stepped away from AV in its traditional sense to look at it as a solution to bring the experience to audiences' homes: "We needed to strip events back to the what, the who and the why, to help us better understand how events can be delivered virtually and to help us plan for multiple scenarios for events within a future that is unknown to us."
Virtual event providers need to supply platforms that meet changing needs so event organisers can conduct meetings as though everyone was present, highlights Deborah Jones, AV and IT sales manager at The QEII Centre, which developed easy-to-use packages and purchased new equipment to streamline costs in light of the pandemic. "We anticipate multi-streams per day, for onsite and online audiences of thousands of participants, although we'd also do the traditional 'boardrooms'. Certain social rules are developing online, such as 'raising a hand' to speak and muting all microphones bar the presenters. These are new rules for some and it's easier to misconstrue gestures online than face-to-face."
Technology is now allowing connections to be made with audiences in ways that perhaps hadn't been considered. "In fact, watching performances in an empty room has provided a level of intimacy and authenticity that large-scale crowded events can't match," says Patrick Hussey, head of communications, EMEA, Blackmagic Design.
A virtual approach
Event specialists' existing and new offerings are assisting the migration to the virtual realm. Creative Technology had already developed options ranging from green screen facilities with high bandwidth connectivity through to complete virtual sets and digital audiences.
"We never adopt a one-size-fits-all approach but most applications involve an LED screen or environment giving the presenter something visible and tangible to work with and a media server system," says Dave Crump, CEO, Creative Technology. "All our facilities have purpose-built control spaces allowing social distancing for presenters and the minimal crew required to function."
Clients who are increasingly requiring higher production values than a Zoom webinar are also looking to the creative event production expertise of companies, such as Hawthorn which offers a range of options up to fully stage-managed virtual awards shows. "Our premium solution brings remote presenters, sponsors or award winners into the live stream to interact with presenters. It's this interaction that is key," says Tom Ring, senior project manager, Hawthorn.
"Most clients want a fully managed solution where we take camera feeds from their homes or offices and vision mix in our remote control room. This either uses a presenter's laptop webcam or we send a simple camera system, green screen and lighting package to them for a higher quality stream."
SXS Events launched turnkey virtual event delivery solution The Virtual Venue and streaming platform Intelligo which includes features such as a paywall, networking, multi-room presentations, sponsor options and data capture. "We are in an era where broadcast-grade production gear is available to clients at all levels. With Virtual Venue we have made a TV studio available to clients as well as a streaming platform that allows for high levels of engagement." says Johnny Palmer, founder and managing director, SXS Events.
Events company Pixl also built virtual studio spaces at John Henry's rehearsal facility in London, with an LED backdrop, a VR/XR studio space and the ability to link to its mirror studios in the US or to remote locations. "The gallery control set-up is similar to how Pixl would run any event with broadcast cameras, the major difference is maintaining a Covid-19 secure venue and safe workplace," says Guy Vellacott, director, Pixl.
Maximising the options
While entertainment and event solution provider PRG's fully virtual offerings are in line with the cutting-edge technology of virtual and 3D stages, its new hybrid studios are designed to maximise the options when small audiences return. "Augmented reality and merged graphical content operate in line with parallel live and virtual worlds to create flexible and impactful presentations," says John Montague, director of corporate and events, PRG.
Having developed VR content, Vincent McAtamney, founder VINTEC Immersive, is used to building virtual environments within Unreal Engine. For the company's virtual events, cameras, laptops, greenscreens and lighting is supplied to each presenter, meaning their movement, imagery and audio can be captured and live streamed into the virtual environment or pre-recorded.
"The virtual environment can be anything," McAtamney says. "Imagine the possibilities a true virtual event affords. Content can be teleported in an instant and is not bound by building limitations."
One option outside the virtual stage set-ups is Klik's virtual platform which offers live streaming, group video meetings, networking, gamification and tools to monetise the virtual event. "We adapted the platform to make sure we were not putting the human connection element aside," says Andrew Serfaty, project manager, Klik.
Nothing new
Streaming content to remote participants is already part of many events and, as Hanne Page, segment marketing manager, events, Barco, highlights, "it was not a big step to turn this into the main event instead of a side show." As the Royal College of Physicians' AV team offered streaming services and hybrid events prior to the pandemic it pivoted quickly to support clients by live streaming using Wirecast streaming software and QLab sound, video and lighting control to live mix pre-recorded, virtual Skype interviews and live content, presenting it as a single stream.
"We also offer delegate response integration through the Vevox app and virtual classroom platform New Row which ties in with our use of the Kaltura video hosting platform and makes a great breakout space," says Ben Pain, head of audio visual, technical and media services, Royal College of Physicians.
While live streaming has also always featured at IET London events, certain packages were adapted and designed for the anticipated rise of hybrid events. "We're lucky to have IET.tv, our in-house video and webcasting team which can offer broadcast solutions, both live and for post-event uploads," says Stefano Raun-Byberg, AV manager, IET London, Savoy Place.
"Many of us have seen the technical challenges event professionals face when attempting to live stream events through amateur measures and unstable internet connections. Once venues are permitted to host events again, hybrid events will go a long way to solve many of these problems, with in-house AV teams ensuring high-quality, streamlined production, while reaching delegates remotely and adhering to social distancing measures."
A socially-distanced future
Events will look different when we emerge from the pandemic and it is likely social distancing measures will be enforced for the foreseeable future. In early May, event production supplier SFL provided audio and video production for one form of socially distanced live performance from Katherine Jenkins, taking place at the empty Royal Albert Hall to mark VE Day and streamed to a home audience. Stringent health and safety measures were adhered to, including all control positions being socially distanced so no operator was closer than two metres.
Loudspeaker manufacturer Meyer Sound's partners are providing solutions for drive-in concerts and other live events that adhere to social distancing rules. Meyer Sound also offers acoustic solutions that can bridge the gap within the audience. "Our Constellation acoustic system can keep audiences connected in this new age of social distancing with the ability to enhance the acoustics of a space and voices," says Tim Boot, director of global marketing, Meyer Sound.
The technology is readily available to facilitate social distancing and rise to the challenges being faced, highlights Bryan Raven, MD at production specialist White Light, which offers a full range of solutions from web conferencing, remote presentations, live streaming and small to large-scale digital conferencing, through to fully virtual and immersive events using its SmartStage solution which uses LED technologies and XR workflows within an immersive presentation environment.
"Social distance presents challenges in terms of capacities and transport to and from events," he says. "The short-term primary model for events will consist of a minimal number of presenters on location, additional contributors on an interactive platform, and the audience remotely viewing a stream. This will allow multiple sites to connect nationally, reducing the need for long distance travel," adds Raven.
"Organisations will collaborate to create hubs, equipped with technology to achieve professional event delivery. This model will continue to evolve and be further enhanced by a range of emerging platforms, offering integrated participation, including Q&A, VoD and virtual networking."
"Clients are often concerned that a different thought process is required for virtual solutions, compared to physical ones, so we invest in education and support to ensure clients achieve the same professional standards of communication with their audience, regardless of the technology or media they are using."
To help the industry safely adapt to the changing landscape as they hold socially distanced events, Hawthorn's parent company PSAV created the MeetSAFE set of guidelines. Klik developed a smart wearable device for attendees to wear at events which tracks behaviour, lights up depending on triggers and features proximity alerting and contract tracing to help achieve a safe, socially distanced event environment.
Best of both worlds
While virtual events are the new norm, hybrid events – comprising a physical venue and smaller in-person event and a remote component – are likely to form the medium-to-long-term future.
As a minimum, VINTEC's McAtamney believes in-person events will also be live streamed or recorded: "Hybrid events are already the standard. Why reach a room full of people when a worldwide audience is available? The first two live streamed virtual environment events we produced during the pandemic would have reached around 1,500 individuals as physical events, but so far we are at 58,000 and counting."
Klik's Serfaty agrees a hybrid format allows events to increase attendance: "This means event managers will have to change their event tech stack to ensure they adapt to this new reality and also means AV will become an even bigger part of their budget – recording, live streaming and interacting with the remote audience during sessions."
For Blackmagic Design's Hussey, the buzz of an in-person event can never be replaced. "But now brands and companies have had a taste of the success live streaming brings, virtual or online formats will likely become a staple part of event delivery," he says. "It can provide additional reach and unlock potential new revenue streams. The online component of an event is also rich in data, including views, engagement, interactions, demographics and behaviour. No traditional in-person event could provide this level of insight."
Liam Hayter, senior solutions specialist, NewTek does not anticipate executives wanting to take the risk of flying to an event when a rich experience can be delivered through hybrid means. "It is in every AV professionals' interest to adapt to software-defined IP workflows and design. The days of a closed-loop AV space are numbered."
Home viewers
Engaging with viewers at home is important when working on hybrid events. "I see this as a mix between using AV technologies to allow guests to become part of the event from their homes and sending care packages with a pre-prepared meal, takeaway voucher, cocktail or sponsor-provided gifts," says Hawthorn's Ring.
The easing of lockdown is similar in most countries, with the main differentiators being the point in the cycle each country is at. "Early indications are the US and Asia will restart events sooner," says CT's Crump. "In Australia we are working on some incredible audience participation solutions for sport behind closed doors."
Meanwhile, the PRG team in Germany has seen success in delivery of events for the open-air market, studio bookings increase in Dubai and its US operation has moved into a virtual space and delivered events for corporate clients, Katy Perry's mixed reality performance for American Idol and The Black Eyed Peas' virtual event broadcast.
Speaking from his experience working in China, Greg Turner, founder, Shenzhen High Performance Event Management, says recovery – and potential new outbreaks – will happen faster than we expect: "Ideas and technologies that can adapt and pivot quickly depending on local conditions should have the biggest impact."
While screening upon entry is important, in a market like China where the virus is reasonably under control, tracking and tracing processes are vital. "This is an easier task in China due to less focus on privacy concerns. Real name registration when purchasing and checking tickets, facial recognition technology on CCTV through the venue to track movement and strong management control of breaks and when people exit the building are some of the keys to maintaining a strong track and trace process in your venue," he adds.
A longer-term obstacle some event professionals will inevitably face is being unable to travel or build out events in the normal fashion, says CT's Crump: "As rules relax and events are held once more we have to develop new models for delivery, operations are likely to become more local and having the reach to deliver on an international basis will become more important."
Shaping events' future
Beyond the end of the pandemic AV technology will remain integral to live events; possibly even more important than before, with more time and money spent on content production and rehearsal.
Streaming, webinars and online meeting platforms will be more integrated in traditional venue-based events to include and engage people viewing remotely. As PRG's Montague highlights, AV will have a massive implication on society "primarily as the function of events as being broadcast-ready has to increase to engage larger audiences."
As event professionals produce hybrid events, they will be using much of the same AV technology as they would for a traditional event with the addition of a streaming and interaction solution for guests at home.
"Being forced into changing our way of producing events into a virtual format has opened up technologies that were once quite niche into the mainstream which could shape the way that we produce events for years to come," says Hawthorn's Ring.
---
Taken from AV Magazine. By Zoe Mutter. 7 July 2020.
Visit the AV Magazine website to stay up-to-date with all the latest AV industry news.

---
---
Tagged in...
News Categories
---
News Archive