Christie projection calms children at hospital
Christie Captiva UST projectors have been installed in new operating theatres at a Barcelona hospital so that children can watch cartoons or favourite TV shows before anaesthesia.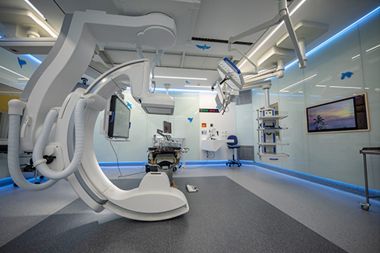 Christie Captiva ultra-short throw projectors were recently installed in three paediatric operating theatres in the Sant Joan de Déu Children's Hospital in Barcelona so that children can watch cartoons or their favourite TV series before going under the effects of anaesthesia. The idea behind this pioneering initiative in Spain is to make the patient's experience before surgery as stress-free as possible.
The Christie Captiva projectors were installed as part of the refurbishment of the hospital's surgical block, which has incorporated the most advanced new technology for minimally invasive procedures.
The hospital commissioned integrator Semic to provide the audiovisual equipment, which includes projectors, monitors, LED screens, control systems, microphones and audio. Christie partner Charmex supplied the AV solutions.
The surgical block was designed to humanise the experience and reduce the trauma children may feel in operating theatres. The theatres are equipped with music and a lighting system that allows the light to be modified for each surgical situation. For instance, the light is blue when performing a laparoscopy, but green when the patient enters the theatre in order to create a relaxing atmosphere.
Christie Captiva DHD410S projectors are used to screen children's cartoons, movies and TV series in the operating theatres, which makes the anaesthetic induction, generally the most stressful moment of any surgical procedure for the patient, a much less traumatic process for children.
The projectors illuminate the glass walls of the operating theatres without any elements that might interfere, thus producing a striking effect and creating 3-metre wide images in the largest theatre, 2-metre wide in the mid-sized theatre and 1.5-metre wide in the smallest.
The main challenge of the AV installation was working in an operating theatre, a highly specialised place where only medical-grade screens are permitted. To this end, for each one of the operating theatres, Semic had to develop a special projection cabin in a false ceiling sealed with glass through which the light beam could pass.
The Christie Captiva DHD410S was an obvious choice given its 0.25:1 ultra-short throw lens, which means it can be placed at just a few centimetres from the wall on which it projects, without any kind of shadows that would obstruct the image, making it ideal for small spaces. Another decisive factor was the super-quiet functioning of the projector (32dB in eco mode).
The Christie Captiva 1DLP laser projector supplies 4,100 lumens at 1920 x 1080 resolution, and provides 20,000 hours of high-performance operation without the need to change lamps. It produces an 80-100″ diagonal image size. Highly reliable, the 1DLP engine also means that the projector can be used in intensive applications, including 24/7 mode, without interrupting operation at any time.
"Here at Semic we only work with the best brands, and Christie is our benchmark when it comes to projectors," explained Marc Marquès Borrell, the project's technical manager. "They are robust and provide deep, rich colours and have always given us the best results."
Semic has also installed two Christie DWU630-GS projectors with a 1.52-2.89:1 lens in one of the hospital's auditoriums, which seats 80 people. This 1DLP laser projector provides 6,750 ISO lumens and WUXGA resolution (1920 x 1200). It also supplied another two Christie Captiva DHD410S for two classrooms in the hospital.
Marcos Fernández, director of Christie in Spain and Portugal, concluded: "We are delighted that our projectors are being used for such a noble purpose as cheering children's spirits before they undergo a surgical procedure. We would like to congratulate the hospital for this initiative and also to thank our partners Charmex and Semic for their know-how in masterfully integrating our technology in such a complex setting."
---
Taken from AV Magazine. By Guy Campos. 13 July 2020.
Visit the AV Magazine website to stay up-to-date with all the latest AV industry news.

---
---
Tagged in...
News Categories
---
News Archive