Digital signage helps Odeon cinemas reopen safely
Digital signage specialist Saturn Communications Group has supported their partner Odeon as they reopen whilst adhering to social distancing measures.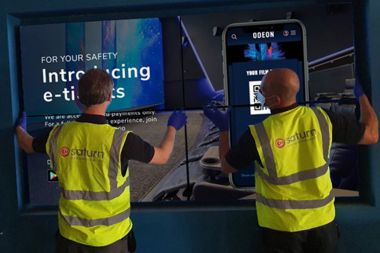 Reopening safely and managing social distancing was top of the priority list when the team at Odeon Cinemas Group was planning their reopening following a three-month closure. Thanks to solutions, support and expertise from digital signage company Saturn Communications Group, the process of getting the sites back up and running was smooth running.
Saturn has worked with the cinema industry since 1998 and currently works with over 10 cinema companies providing digital posters, food and beverage screens, large format LED screens, payment kiosks, marketing screens as well as the ongoing management of these systems. Having worked together for over 20 years, Odeon is one of the company's key partners.
"Business as usual was put on hold after the lockdown came into place. But, once the government announced a date for the reopening of cinemas, we put together a project team for all our cinema partners and produced documentation for Odeon GM's detailing how best to get digital signage at all their sites back up and running," says Matthew Drury, sales and marketing director, Saturn Communications Group.
Saturn agreed a multistage approach was best to manage the reopening and initially looked into the best hardware, software and digital content options. The first task was to restore remote communications allowing the team to quickly identify any hardware in need of support.
"Our proprietary software allows us to manage and check which hardware is working and which is not. It allowed us to restart most of the hardware remotely to save on the amount of travel and time spent getting to site. Our latest iterations of media players can identify a software or hardware malfunction and actually reboot themselves," says Drury.
Although most issues could be rectified remotely and swiftly, some problems were not so easily solved. After identifying the equipment that had failed following three months of non-use, the team scheduled a site visit program for their in-house engineers to either fix or replace faulty hardware.
"Our teams went out across the country fixing the issues whilst following social distancing guidelines and using PPE," says Drury. "For situations requiring a two-man team we created team social bubbles so that they work together and not with others."
Content for the screens also needed to be changed which involved working closely with Odeon and Saturn's cinema partners to gain a broad understanding of the new post lockdown customer journey. This included altering key messages along this journey to reinforce new rules and impart critical information in the right spaces. For example, a tailored food and beverage menu now advertises a slightly reduced array of options whilst informing of cashless transactions and social distancing rules.
Saturn's content management and creative team also keep on top of the changing film release schedule to ensure that film trailers and posters are accurate, up to date and relevant.
"The bold changes made by Odeon, ahead of most other exhibitors, along with the associated digital communication policies will give confidence to returning customers, and we all hope they will kick-start the industry," says Drury.
---
Taken from AV Magazine. By Zoe Mutter. 7 July 2020.
Visit the AV Magazine website to stay up-to-date with all the latest AV industry news.

---
---
Tagged in...
News Categories
---
News Archive