Samsung's back-to-business display solutions
New products and partnerships include a temperature-screening kiosk, a digital hand sanitising station, people-counting and traffic flow carts and thermal mirror technology.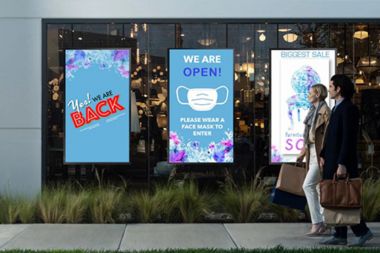 Samsung has announced a wide range of commercial display solutions to get companies back to business. Together with partners, Samsung is offering display solutions specifically addressing safety, collaboration and communications concerns.
Solutions available for businesses include an FDA Certified Temperature Screening Kiosk, Automatic Digital Hand Sanitizing Stations, Automatic People Counting and Traffic Flow Carts as well as Thermal Mirror Technology. These technologies, in addition to Samsung's existing display portfolio, address specific concerns in industries including hospitality, QSR, healthcare, retail, SMB, education, public safety, and live venues.
Access & Safety
Along with partner Palmer Digital Group, Samsung is introducing an FDA Certified Temperature Screening Kiosk to seamlessly screen and track temperatures at entry to an establishment. "Palmer Digital Group's temperature testing kiosks have become a line of defence for employees and customers," said Charles Lewis, vice president of business and sales at Palmer Digital Group. "Our kiosks are paired with Samsung 32-inch displays, so each user is given clear instructions and information."
Creative Realities, Inc has also partnered with Samsung on no-contact Thermal Mirror technology to perform real-time temperature inspection and to trigger alerts. The Thermal Mirror is a cloud-based thermal screening solution with an integrated AI platform and an array of reporting capabilities. "We're pleased that Samsung chose to integrate our Thermal Mirror technology in its own corporate facilities, and confident the solution will play an indispensable role in helping companies take care of their most valuable assets: their employees, guests and customers," said Rick Mills, CEO of Creative Realities
Remote management for displays also plays a large role in keeping up with the drive-through and curbside pick-up demand at quick serve restaurants. Samsung's content and device management solution, MagicINFO, is critical in enabling franchise owners to share menu updates and feature brand promotions in real-time. Samsung is offering a limited time 90-day trial of the MagicINFO Cloud Hosted Solution to provide businesses with the opportunity to test capabilities on their Samsung displays.
Productivity & Collaboration
Hybrid work environments, with some employees based in an office and others telecommuting, create an even greater need to collaborate remotely. Samsung and Cisco have partnered to design Webex on Flip to offer executives and employees the ability to work as a team across various offices and environments.
Webex on Flip features various editing tools and the ability to share and source content from multiple connected devices, all with smooth video conferencing, crystal-clear audio and detailed picture quality. Available in 55- and 65-inch screen sizes, Webex on Flip allows for both video conferencing and a digital flipchart simultaneously to produce a more productive and engaging collaboration in any business setting.
Information & Communication
The new Samsung Pro TV provides businesses with the capability to communicate with customers around the clock. Ranging in size from 43 to 75 inches with an extended 16 hours, 7 days a week operating time, this display enables business owners to stream important content for their customers while continuing to promote safety guidelines and brand information. Businesses can easily update messaging on the Pro TV with the Samsung Business TV app featuring 100 customisable templates they can upload right from their mobile device.
"Providing businesses with new, easy ways to use digital signage is more important than ever," said Mark Quiroz, vice president of marketing in the Display Division. "Our new Pro TV, designed for verticals including SMBs, healthcare and education combines a stunning 4K visual experience with a simple do-it-yourself app that allows users to communicate like a marketing pro."
As Samsung continues to innovate on back to business solutions, the new Pro TV Terrace Edition launching later this year is designed to withstand the elements while delivering exceptional brightness and image quality. Hotels, restaurants and live venues can use this outdoor display to communicate important safety guidelines for customers while also increasing awareness of deals or special offers.
---
Taken from AV Magazine. By Guy Campos. 18 June 2020.
Visit the AV Magazine website to stay up-to-date with all the latest AV industry news.

---
---
Tagged in...