Imperial War Museums' projectors upgraded
Twenty-eight Epson laser projectors were installed by the museums' own AV team during lockdown, replacing lamp-based models at the now reopened London and Duxford museum sites.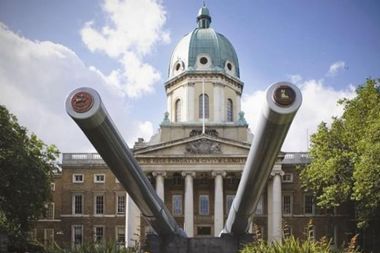 Imperial War Museums has invested in and installed an upgraded fleet of Epson projectors at its branches IWM Duxford and IWM London, bringing more impact to its Battle of Britain Exhibition (Duxford) and First World War Galleries (London). The projectors, which were installed during the lockdown by IWM's own in-house AV team, provide high performance with low maintenance and demonstrate IWM's commitment to welcoming visitors with open arms as easing restrictions in the visitor attraction sector have enabled them to open their doors again. Both these two branches, along with IWM North and the Churchill War Rooms are now open to the public, while HMS Belfast is closed until further notice.
The installation of 26 x Epson EB-L1075U projectors at Lambeth Road in London is being used for the First World War Galleries while an EB-L510U and EB-L1075U will be installed at IWM Duxford's Ops Block and Building 59 cinema room respectively. The upgrade replaces previous generation lamp-based projectors with new laser projectors from Epson.
Ian Crawford, chief information officer at Imperial War Museums, said: "The projectors across our branches run from 10:00-1800 every day so it's important that we can rely on them to work. The lamp-based projectors needed their lamps changing every six months, with many of them needing big ladders or cherry pickers to replace them, which wasn't very convenient. The Epson laser projectors on the other hand don't need any intervention and because our own AV team are so familiar with the Epson range now, we were able to do the installation in-house."
"Our doors are open and thanks to the innovation of AV we have an even stronger platform for bringing our stories to life. All the appropriate social distancing precautions have been put in place across our branches and we're looking forward to welcoming more and more visitors to IWM for a truly memorable experience."
IWM is currently in the second phase of Transforming IWM London, a £30.5 million project which will see new Second World War and The Holocaust Galleries, as well as a brand new digitally-enabled Learning Suite opening at IWM London in 2021. Spanning two floors and occupying over 3,000 sqm, the new galleries will tell the story of the Second World War and the Holocaust for a 21st-century audience. A public engagement programme for IWM's collections in the galleries and beyond the museum will highlight how the Second World War remains the most devastating conflict in human history.
---
Taken from AV Magazine. By Guy Campos. 7 October 2020.
Visit the AV Magazine website to stay up-to-date with all the latest AV industry news.

---
Posted: 20th October 2020
---
Tagged in...
News Categories
---
News Archive