'Projectors take centre stage over LED at European events'
The latest 3-Chip DLP laser projectors are winning back a role in live event backdrops, according to a Panasonic report looking at Europe's largest rental and staging companies.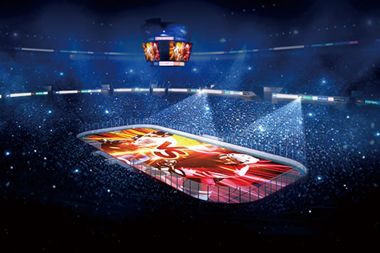 LED displays for live event backdrops are being replaced by the latest generation of 3-Chip DLP laser projectors because of their creative, commercial and operational benefits, according to a whitepaper from Panasonic. The whitepaper draws on the experiences of the largest rental and staging companies in Europe, including The AED Group in Belgium and STS Communication from Italy.
The rental and staging companies found the projectors were easier and more cost-effective to operate. Picture performance and power consumption were as good or better than LED equivalents. Creative opportunities were enhanced by the use of the projectors, with the ability to create floating screens and different screen shapes more easily, as well as scale the resolution and brightness of images for camera close-ups.
In a standardised event deployment to deliver four screens, each measuring 9.6m x 6m, with 4K resolution images, rental and staging companies reported a number of significant savings by using the projectors over LED displays:
Pre-check time could be cut from a week to less than a day.
Transportation requirements were reduced from 70 flight cases to just five.
Set-up time was reduced from 110 to 40 staff hours.
Power consumption was two to three times more for LED displays to deliver the same levels of brightness.
RQ50K projector
The Panasonic whitepaper has been published to promote the company's RQ50K projector. The 50,000 lumen, 3 Chip DLP projector delivers Native 4K images in a lamp-free and filter-less design with hermetically sealed optics for 20,000 maintenance-free operational hours.
"LED displays came to dominate the market for use as video walls and stage backdrops because the image brightness and contrast offered was unrivalled but the introduction of the Panasonic RQ50K has begun to rapidly reverse this trend," said Hartmut Kulessa, European marketing manager at Panasonic Business. "The rental and staging industry has quickly realised it is a game-changer, bringing new levels of commercial and operational benefits, picture performance and creative flexibility that outgun the LED Display. This whitepaper looks to identify and capture those advantages for the first time so that others can see how this technology is changing the dynamics of providing creative backdrops across live events and TV staging."
---
Taken from AV Magazine. By Guy Campos. 7 October 2020.
Visit the AV Magazine website to stay up-to-date with all the latest AV industry news.

---
Posted: 22nd October 2020
---
Tagged in...
News Categories
---
News Archive