Panasonic projectors celebrate Nobel Prizes
Thirty Panasonic laser projectors, many of them in portrait mode, ran for 12 days in one of the largest video mapping projects ever seen in Stockholm, Sweden.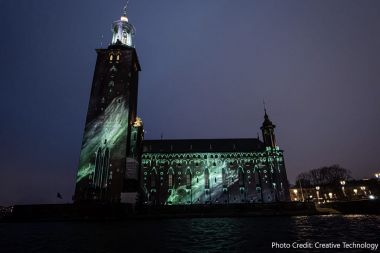 Panasonic projectors have helped celebrate man's understanding of space with over 100,000 visitors seeing a spectacular projection mapping onto Stockholm's City Hall in one of the largest video mapping projects ever seen in the city. The event took place as part of a Nobel Week Lights festival which celebrated the award of 2020 Nobel Prizes in Stockholm with lighting installations created around the city inspired by Nobel laureate discoveries.
The creative result was SPACE, designed by Andreas Skärberg and produced by PXLFLD studios. The content is a 16-minute projection-mapped, animated art installation celebrating advances in space physics.
PXLFLD called on its partners Lumination of Sweden and Creative Technology to help make the vision become reality. The team deployed a total of 30 Panasonic PT-RQ22K and PT-RZ21K projectors for the display.
"We needed a laser-based projector that was easy to line up around all the sharp edges but also for the improved colour and contrast," explained Johan Törnström at Creative Technology. "It was also important that the projectors were compact and easy to set up in the restricted space," Törnström added that the reliable Panasonic laser architecture was the single most important projector feature, as the installation ran over 12 days with many of the arrays installed in portrait mode.
The Panasonic PT-RQ22K and PTRZ21K 20,000lm projectors combine 3-Chip DLP imaging with 4K+ Solid Shine Laser Phosphor technology to deliver the superior screen brightness uniformity important for projection mapping. "These projectors are designed for environments where the show must go on, with back-up input guaranteeing continuous picture display even if the primary signal is interrupted," said Hartmut Kulessa, European marketing manager at Panasonic Business.
"Being able to present this huge piece to an audience in a safe way and having the visual content take centre stage was a truly humbling experience and the public response has been overwhelmingly positive," said Anders Granström, technical designer at PXLFLD.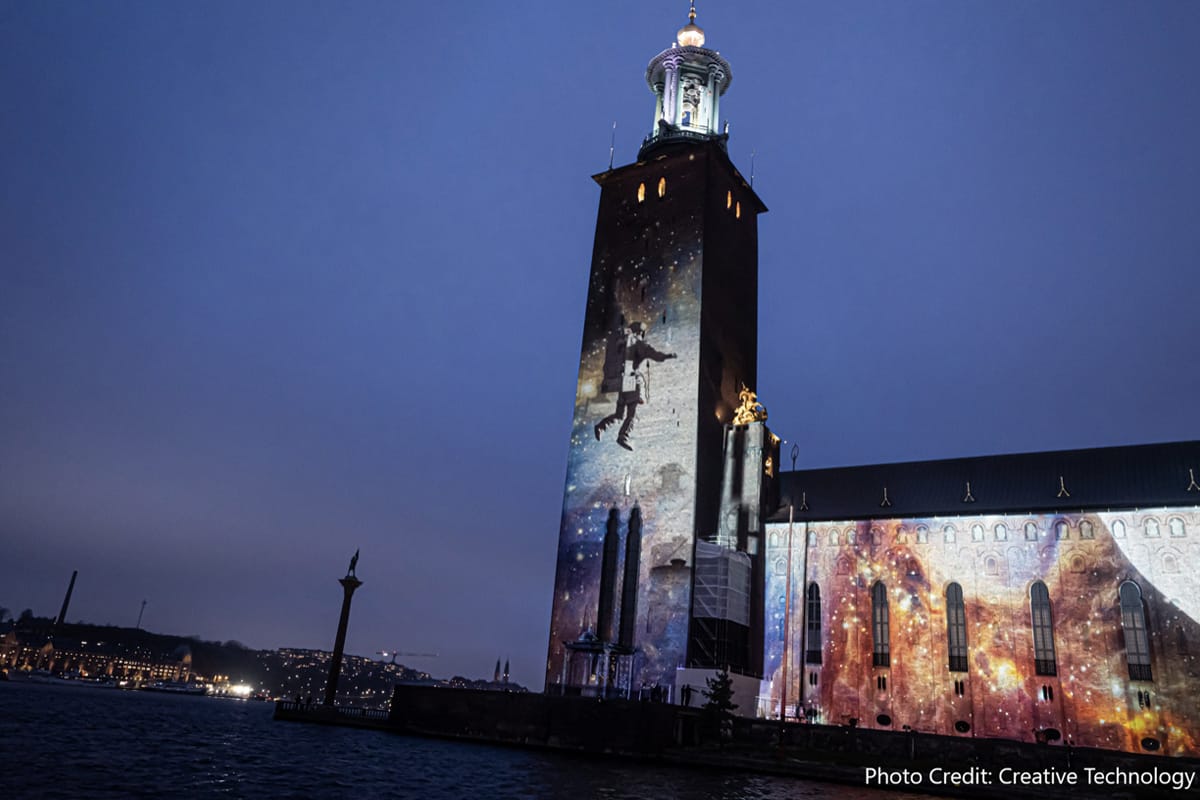 Photos: Creative Technology
---
Taken from AV Magazine. By Guy Campos. 16 February 2021.
Visit the AV Magazine website to stay up-to-date with all the latest AV industry news.

---
Posted: 19th February 2021
---
Tagged in...
News Categories
---
News Archive