ISE announces programme for two-day London local show
Details include a panel on the future of the workspace chaired by AV Magazine's Clive Couldwell, named exhibitors, and networking drinks on the first day.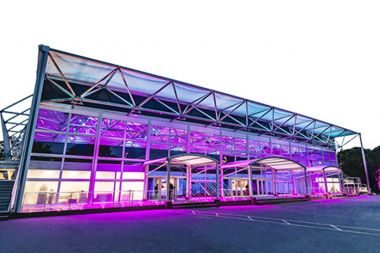 The show will take place at Battersea Evolution, the venue for the AV Awards in 2019 and 2021.
ISE has announced a two-day content programme for its London show which takes place from 23-24 June, including a Main Stage panel debate chaired by AV Magazine group editor Clive Couldwell.
The London event is the second of two ISE local city events taking place this June and will be held at Battersea Evolution, the venue for the 2019 and 2021 AV Awards.
Alongside the presentations, Live & Online exhibitors will include Ampio, AVIXA, Barco, Biamp, the Beacon Agency, BrightSign, Control4, Igloo Vision, Jabra, Jetbuilt, Lang, Logical Solutions, Nexmosphere, Panasonic, Ring, Shure, TaylorLEDS and Wolfvision.
There will also be a networking drinks reception open to all, at the end of the first day of the show.
In his panel session, AV Magazine's Clive Couldwell will get to grips with the pressing issue of "The Future of The Workspace", alongside industry experts.
Other participants in the two-day content programme will include:
AVIXA, which will present market intelligence and analysis on trends on the AV sector on both days, plus Kevin McLoughlin who will host a panel discussion with the AVIXA Diversity Council
ISE MD Mike Blackman who will participate in an exclusive fireside chat and Q&A session with AV User Group chairman Owen Ellis
Futurist and XR expert Amelia Kallman who will present a keynote speech on Day 1 entitled 'The Future of Connection', dissecting the trends and tech altering our future landscape and sharing insights on how businesses can not only survive but thrive in the years to come.
Two topical Barco presentations which will explore 'The Future of Visualisation', with Peter Pauwels, and 'Technology in the Meeting Room', with Anthony Wright. In addition, the Barco booth will host a 'Coffee and Connect' space which will allow 'deep dive' Main Stage follow-up discussions with session chairs, Barco experts and AV User Group chairman Owen Ellis.
For more details, see: https://www.iseurope.org/ise-2021-london/
---
Taken from AV Magazine. By Guy Campos. 3 June 2021.
Visit the AV Magazine website to stay up-to-date with all the latest AV industry news.

---
---
Tagged in...