AI art show blends NASA data with Barco projection
Turkish-American designer Refik Anadol's latest immersive exhibition married bespoke algorithms and data pigmentation techniques with 18 3-chip DLP projectors.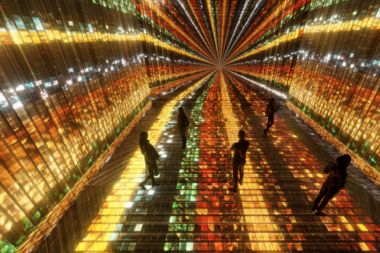 Turkish-American new media artist and designer Refik Anadol launched his Machine Memoirs: Space exhibition at the Istanbul Pilevneli Gallery in March this year. Powered by Barco projection technology, Anadol combined complex AI algorithms, data visualisation techniques and human creativity to present a magical, immersive spectacle, with the exhibition receiving more than 40,000 visitors in a four-week run.
The show in Istanbul, Refik Anadol's home city, brought together diverse works inspired by the artist's recent collaboration with NASA JPL, a US federally funded research agency that is the leading centre for robotic exploration of the solar system.
The main building block for the works that made up the Machine Memoirs: Space exhibition was publicly available data from space, collected by NASA satellites and spacecraft, including the ISS and Hubble. What visitors were seeing was Anadol's bespoke algorithm and data pigmentation techniques in an immersive projection set-up.
Anadol calls this AI cinema: "I asked myself: if machines can learn, can they also dream? And could artificial intelligence become a tool for creativity? Could it be a partner in our journey of telling visual stories?"
To visualise his AI paintings, Anadol relied on Barco projection technology, although the artist says he wanted to use it in an unexpected way, and do more than just creating shiny pixels. The artists made use of Barco projectors for the first time in 2010, for another immersive installation in Istanbul, but his work has since evolved and he is now mainly inspired by data and artificial intelligence. In this vein, he has already unveiled the WDCH Dreams show at the Walt Disney Concert Hall in Los Angeles and another artistic highlight was Machine Hallucinations at ARTECHOUSE in New York City.
The Machine Memoirs: Space exhibition made use of 18 Barco 3-chip DLP digital projectors. The organisers especially valued the projectors' vivid and saturated colours, rich contrast and high colour stability over time.
Although immersive projection installations are popping up all over the world, Anadol says not all of them have the same level of imagination. With Machine Memoirs: Space, the artist wanted to bring more more depth and imagination to the format of the immersive exhibition. Indeed, there's a powerful meaning behind the AI data story and about how light is projected onto architecture.
"I am not interested in the material quality of architecture," said Anadol. "What I try to envision in my work needs brilliance. That's why I am obsessed with exceptional colour and brightness, and the quality of the technology therefore needs to be exceptional as well."
With Machine Memoirs: Space, every visual needed to be in line with the physical space of the Pilevneli Gallery. Every single pixel of Anadol's creations have their specific place in the physical space.
"I am very ambitious about lighting conditions and colours. My team and I use the most advanced algorithms, and we spend thousands of hours computing the data. If we raise the bar this high, then why would we want to visualise our work with below-standard technology?" said Anadol. "As an innovator myself, I want to work with innovative companies like Barco. Pioneers always have a connection with pioneers; that's not a coincidence."
The exhibition was also made possible by Turkish AV partner Reflection Production and by the Istanbul Metropolitan Municipality.
---
Taken from AV Magazine. By Guy Campos. 1 July 2021.
Visit the AV Magazine website to stay up-to-date with all the latest AV industry news.

---
---
Tagged in...
News Categories
---
News Archive