Forced perspective '3D' LED advertising takes off in London
A giant watch that appears to rotate in front of the Piccadilly Lights screen is attracting attention as quasi-3D content moves from Asia to Europe.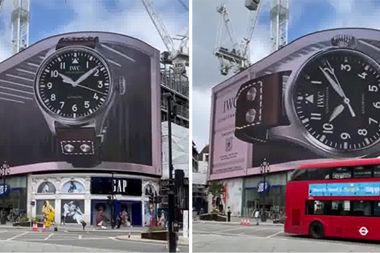 Eye-catching forced perspective content illusions on giant LED screens have now spread from Asia to Europe, with the advent of quasi-3D advertising on the landmark Piccadilly Lights screen in central London.
Beginning last year, a giant wave has appeared on flagship 8K LED Samsung digital signage in Seoul, South Korea. A giant spaceship has been seen breaking out of a Liantronics LED screen in Chengdu, China. And just last week, a huge cat appeared to have made its home on LED located outside a major train station exit in Tokyo, Japan.
Now, Swiss watchmaker IWC Schaffhausen, which is owned by the Richemont luxury brands group, has unveiled a creative treatment on the Piccadilly Lights which has been attracting attention on social media. The DOOH ad shows The Big Pilot watch, which retails at £10,900, appearing to break free of the screen and rotate horizontally and vertically in a space in front of the Piccadilly Lights.
The landmark Piccadilly Lights screen which has a resolution that is 1.4 times greater than 4K is built with 783.5 sqm of Daktronics LED and is operated by Ocean Outdoor on behalf of property owner Landsec. The forced perspective illusions are a feature of creative content, rather than the LED displays itself, as they are best viewed from a particular vantage point, in this case a paved public space by the statue of Eros in Piccadilly Circus, London.
In a comment posted on LinkedIn, Mark Hodgson, commercial media development manager at Landsec, said: "Great creative work from IWC. The third advertiser in two months to use forced perspective on the Lights."
Keith Nilsen of dynamic DOOH content production company voodooh, who posted a video of the Piccadilly Lights ad provided by Ocean Outdoor to LinkedIn, commented: "Nice to see a great anamorphic #digital #ooh #dooh #creative #campaign finally reach our shores. Not the first example of forced perspective #marketing on #outdooradvertising we've seen in the UK, but IMHO definitely the best to date! Fantastic work by Richemont, IWC Schaffhausen and Ocean Outdoor."
A video of the project has also been posted to LinkedIn, by IWC Schaffhausen senior brand designer Francesco Marzoli who worked with 3D artist Riggenbach Diego and 3D designer Jörg Dietrich on the creative treatment.
Forced perspective LED content has been demonstrated at ISE by Daktronics as far back as 2016 and is available through the LED manufacturer's creative services division. Meanwhile, Samsung has formed a global partnership with the d'strct creative studio behind the giant wave anamorphic illusion which has already attracted further attention for forced perspective '3D' content featuring a giant toy while a 'naked-eye 3D' Absen LED content project has also attracted attention in Guangzhou, China.
---
Taken from AV Magazine. By Guy Campos. 15 July 2021.
Visit the AV Magazine website to stay up-to-date with all the latest AV industry news.

---
---
Tagged in...
News Categories
---
News Archive