Panasonic 600-screen project 'unseen by Olympic fans'
A landmark digital signage installation was completed at the Japan National Stadium in time for the Tokyo 2020 Olympics only to meet with a ban on spectators.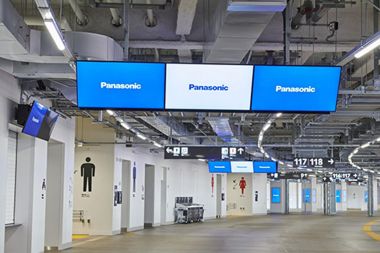 The Tokyo 2020 Olympics Opening Ceremony has taken place in a stadium equipped with more than 600 Panasonic digital signage screens, in what was said to be the largest project of its kind at the date of completion, but with fewer than 1,000 attendees due to strict Covid-19 social distancing rules.
The new Japan National Stadium in Tokyo, which was completed in time for the original date of the Tokyo 2020 Olympics, was equipped by Panasonic with state-of-the-art AV technology including 600 digital signage screens, two large stadium screens, line array loudspeaker systems, stadium lighting and air conditioning systems.
The installation represented the largest number of digital signage screen systems ever delivered to one project as of the beginning of last year, according to Panasonic.
But the Covid-19 pandemic forced the postponement of the Tokyo 2020 Olympics to July 2021 and a recent outbreak of the Delta variant of Covid-19 obliged the Japanese authorities to declare a state of emergency earlier this month, banning all spectators from the Tokyo games.
Foreign spectators had already been uninvited but there had been a hope that domestic fans could be present in the Japanese capital. A small number of domestic fans will still be allowed at events outside the Greater Tokyo Metropolitan Area.
Would-be spectators will miss out on a huge investment in Panasonic AV technology at the Japan National Stadium which is hosting the Opening and Closing Ceremonies and competitions such as track and field. The new National Stadium replaced an older national stadium on the same site which served as the Olympic Stadium during Tokyo 1964 and which was demolished in 2015.
In publicity for the new stadium issued in 2020, Panasonic said that 600 digital signage systems were located in the stands with a view to providing information to spectators that can be differentiated by concourse area using Panasonic's AcroSign CMS.
Two Full HD stadium screens were provided – one that is approximately 9m x 36m at the north side of the stadium, including 4m for a turret clock, 45-minute counter and running timer, and another that is 9m x 32m at the south side.
A complement of 38 RAMSA line array speaker systems were provided for competition audio including "eight barrels of 24 units and four barrels of 14 units".
Panasonic also provided lighting equipment that not only illuminates the filed of play but can be turned on and off instantly, enabling the using of lighting for spectator entertainment. Panasonic Stadium Beam LED floodlights provide optimal colour reproducibility and high-speed image reproduction for 4K/8K broadcasts which can reproduce colour more vividly than Full HD. The floodlights have an average colour rendering index of Ra 90 plus a special colour rending index of R9 80 for red tones. The floodlights minimise flickering during high-speed reproduction of slow-motion footage and also also narrow the focus of light from the light source to reduce glare significantly.
All of the technology remains in place for major sporting events which can be attended when social distancing restrictions are not in place.
---
Taken from AV Magazine. By Guy Campos. 28 July 2021.
Visit the AV Magazine website to stay up-to-date with all the latest AV industry news.

---
---
Tagged in...