Epson showcases EB-PU1000 Series at PLASA 2021
The series supports an external camera with in-built processing which enables two 10,000 lumens projectors to be stacked, doubling brightness to 20,000 lumens, without additional computerware.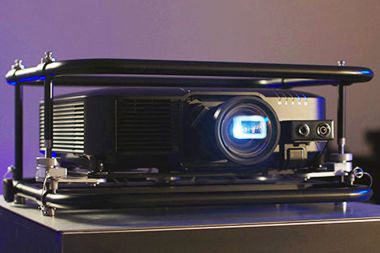 Epson has showcased its new EB-PU1000 series at PLASA 2021, following its launch earlier this year. The range of compact, versatile and lightweight high-lumens 3LCD laser projectors build on Epson's EB-L1070U series, and includes 6,000, 7,000, 8,500 and 10,000 lumen variants offering WUXGA resolution with 4K enhancement, HDR and advanced installation features.
At the top of the range, the new series is also 27% smaller than its predecessor, which not only results in easier transportation but also means that no brightness is lost despite the change in size.
To meet the needs of end users in the visitor attractions, higher education venues and signage markets, the EB-PU1000 series is compatible with Epson's existing range of motorised lenses and provides additional options such as the new ELPEC01 external camera module.
Built-in processing within the ELPEC01 camera allows for stacking assistance and the ability to produce 20,000 lumens from two stacked 10,000 lumen projectors, without the need for any additional computerware.
The EB-PU1000 series also includes Near Field Communication (NFC), which enables communication between the projector and smart devices even when the projector is off. This allows for simplified multi-projector setups, whilst making diagnostics and multi-projector installs easier.
Other features including tilting and stacking assist, and image calibration are supported with the Epson Projector Professional Tool software, whilst SDI in and out further minimises installation complexity with daisy-chain support.
---
Taken from AV Magazine. By Dan McGrath. 8 September 2021.
Visit the AV Magazine website to stay up-to-date with all the latest AV industry news.

---
Posted: 15th September 2021
---
Tagged in...
News Categories
---
News Archive