LG to transform car park with transparent OLED displays
The project is being developed in partnership with the Korean ride-hailing app provider Kakao Mobility at the Trade Tower in Seoul, South Korea.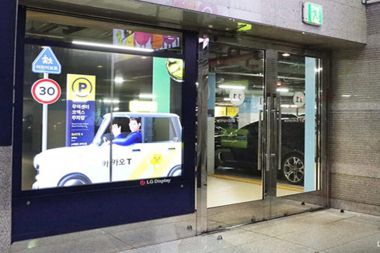 LG Display has teamed up with Kakao Mobility, the Korean taxi-hailing firm, to create a smart car park in Seoul, using its transparent OLED screens.
Located at the Trade Tower in the Gangnam district of the city, which sees over 40 million visitors every year, the car park will create a differentiated parking service that not only provides convenience to visitors, but experiences that make a deep impression.
The 55″ transparent OLED Display panels will be installed at the six entrances to the parking lot from the shopping mall. These will cover the existing glass walls, creating effects and illusions without taking up space or distracting customers.
These designs will be interactive and customers will be able to experience a range of entertaining content, adding a futuristic feel to the car park.
The display's self-emissive nature and no backlight allow 40 per cent transparency along with a thin, lightweight and flexible design. These screens have already been installed in shop and train station windows, and LG Display is already working to implement the panels in autonomous cars, aircraft and on home furniture.
"LG Display will continue to redefine the concept of spatial design with its industry-leading transparent OLED by delivering key information and entertaining content to passersby with a difference," said Cho Min-Woo, head of the transparent OLED business at LG Display.
---
Taken from AV Magazine. By Dan McGrath. 15 September 2021.
Visit the AV Magazine website to stay up-to-date with all the latest AV industry news.

---
Posted: 20th September 2021
---
Tagged in...
News Categories
---
News Archive