digiLED achieves 'field of play' display first in US sport
A 626 sqm, 60 million pixel LED display at Bankers Life Fieldhouse, home of the Indiana Pacers basketball team, is digiLED's first main field of play display in major league sports in the US.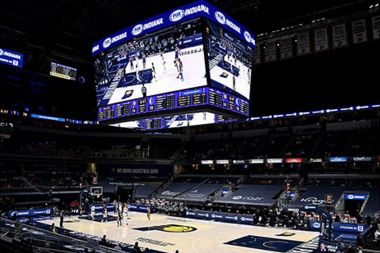 Over the past 14 years digiLED has been supplying large scale LED video screens into sports venues all over North America. Now, in conjunction with its partner, design and execution company ANC, it has completed its first major league sports installation as the main feature in the field of play.
digiLED supplied 626 square metres of LED displays comprising more than 60 million pixels to upgrade Bankers Life Fieldhouse, home of the Indiana Pacers but while the displays are located throughout the arena, the focal point is a custom-designed, huge, centre-hung LED scoreboard.
The centre-hung structure features a four-sided gondola, with each face providing a convex curve to optimise wide-angle viewing. In addition to the screens, digiLED supplied upper and lower custom-built LED rings, and an 'underbelly' screen, which runs the full length and width of the scoreboard to provide views of live action, game replays and statistics from every seat in the house.
Due to viewing angle requirements and building weight restrictions, digiLED's high-performing, lightweight H-TEK product was selected for the massive display, while many design and production modifications were required to meet demanding project requirements.
The scoreboard is complemented by 200 sqm of digiTHIN HD and digiTILE MAX products located in courtside displays, entry tunnels, media rooms, interview rooms, concourse and dining areas.
Graham Burgess, CEO digiLED, said: "We're very proud of this installation. We've installed digiLED screens at many US venues, but this is the first to be the main feature on the field of play. Additionally, the centre-hung screen is an incredible technical achievement that uses our unique customisation capabilities to give the fans at Bankers Life Fieldhouse a first-class view, no matter where they're sitting. The positive feedback from the fans, our partner ANC and their client has been overwhelming."
George Linardos, CEO at ANC, added: "We are proud of our partnership with digiLED and their ability to deliver customised solutions based on our designs. The new centre-hung structure is one of the more creative executions on the market; and the fine-pitch LED displays in the premium areas could stand alone in creating a significant wow factor fans will remember."
---
Taken from AV Magazine. By Guy Campos. 18 November 2021.
Visit the AV Magazine website to stay up-to-date with all the latest AV industry news.

---
Posted: 25th November 2021
---
Tagged in...