EXPO 2020 control rooms select projection over flat screens
Twelve Christie 4K 30,000 lumen projectors and Terra transport, processing and control solutions have been deployed at the EXPO Operations Centre in Dubai.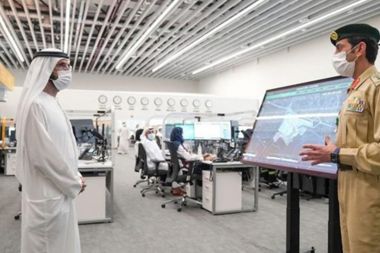 Three video walls powered by Christie products, including twelve 4K 30,000 lumen projectors and Christie Terra transport, processing and control solutions have been installed in the Expo Operations Centre (EOC) at EXPO 2020 Dubai.
The EOC, which co-ordinates activities for the key operational team and monitors all site operations, including roads, transport links and policing, is also supported by Christie Professional Services, which is providing around the clock technical support and service response through Christie's own Network Operations Centre.
The three video walls provide a full view of the EXPO site and allow for real-time monitoring and decision-making purposes. The focal point for the Dubai Police Operating Centre (DPOC) is a huge video wall measuring 27 metres (88.5 feet) by 5 metres (16.4 feet). Similarly, the Technology Operations Center (TOC) and Main Operations Center (MOC) have 23 x 5m (82 x 16 feet) video walls. Each of the video walls is split into five separate screens powered by five Christie Boxer 4K30 projectors, one for each display, and the Christie Terra processing and control equipment.
The Christie Boxers are running in Ultra High Definition widescreen (16:9) mode and each video wall can be split into different combinations of separate smaller screens including 2 x 2 and 3 x 3. The Christie Terra processing equipment includes over 100 transmitters and receivers, as well as five controllers managing the different layouts.
The specification team chose projection over a flat-screen video wall for several reasons, including its ability for 24/7 operation for mission-critical operations, the sheer size and desired resolution of the display area, the versatility offered by projection in the shaping, sizing and switching of video wall content, its cost-effectiveness, and lastly, the minimal impact on infrastructure, allowing the space to be re-purposed more easily after Expo 2020 ends.
Joe Graziano, director of entertainment sales in EMEA, commented: "The EOC is really something special with very large scale video wall displays. With this being a temporary installation, projection was the ideal solution. It's easily repurposed and the impact on the infrastructure is minimal."
Mohammed Alhashmi, chief technology officer at Expo 2020 Dubai, said: "The video walls are a crucial part of the Expo Operations Centre, showcasing data that is crucial for the EOC team to be able to make decisions in response to ongoing events across the Expo site.
"Christie's contribution to this crucial part of our technology infrastructure is part of a wider partnership that includes the group's 252 high-quality RGB laser projectors bringing Al Wasl dome – the beating heart of the Expo site and home to the world's largest 360-degree projection surface – to life."
EXPO Dubai 2020 began on October 1 2021 and will continue until March 1 2022.
---
Taken from AV Magazine. By Dan McGrath. 3 November 2021.
Visit the AV Magazine website to stay up-to-date with all the latest AV industry news.

---
Posted: 1st December 2021
---
Tagged in...
News Categories
---
News Archive