LED totem is centrepiece at Latin America's largest store
A 16m-high, three-sided digital totem supplied by Necsum Trison to the flagship 25,000 sqm Falabella department store in Santiago, Chile has content influenced by sensors and AR.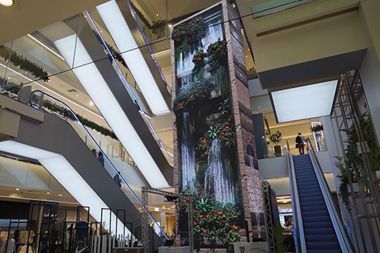 Nescum Trison has installed a three-sided 16 metre LED digital totem inside the largest department store in Latin America. The totem forms the centrepiece of the 25,000 sqm Falabella Retail Centre in Santiago, Chile.
The central totem can be seen by visitors as they travel up the centre's escalators, with the visual content making use of sensors and AR.
In a digital briefing on its website, Nescum Trison said: "The high quality of the technology installed on the three sides of the totem enables the content for this immersive experience to be displayed in great detail, ensuring that the visitor is immersed in a magical world when climbing the lateral escalators of the square. The idea is to generate poetic content that accompanies the space and generate very attractive and beautiful visual environments."
"This audio-visual installation is completed with interactive games for all ages where visitors will be the protagonists of this colossal screen. The Central Plaza, full of sensors, allows visitors, old, young and young at heart, to play and have fun in an interactive way. The most modern technology works its magic to allow us to enjoy augmented reality, share photos with friends and even test skills with a great interactive pinball."
FALABELLA_Necsum Trison from Necsum Trison on Vimeo.
---
Taken from AV Magazine. By Dan McGrath. 4 January 2022.
Visit the AV Magazine website to stay up-to-date with all the latest AV industry news.

---
Posted: 20th January 2022
---
Tagged in...
News Categories
---
News Archive