Pure AV hosts showcase event at UK office
Pure AV hosted its second showcase, CommUniCate 19, at its office in Preston, UK, attracting over fifty delegates from business, higher education and healthcare.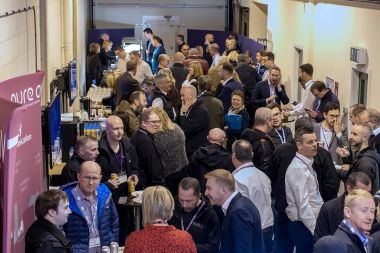 The event featured exhibitions, seminars and live demonstrations to allow visitors to experience how technology can be used to manage and build connections in work environments.
Erica Whittle, marketing manager, Pure AV clarified: "From remote working to informal huddle meetings, the ways in which we work and interact with our colleagues, customers and suppliers have evolved and to make the right technology choices in response to those changes is a challenge for many businesses."
The event was split into a morning and afternoon event, with the afternoon event following a morning of training for the Pure AV technical and sales teams providing twenty participating vendors with a platform to share their platforms with the team ahead of the arrival of customers.
The afternoon session featured three keynote presentations from Greg Jeffreys, standard task group – user experience design for AV, Avixa and Charles James, Director, Strategic Alliances, Crestron who opened the keynotes.
James focused on the journey that some organisations are now taking as they transition from Skype to Microsoft Teams, with a final 20-minute session delivered by John Vickerage, channel director, Ascentae, exploring the subject of flexibility and productivity, discussing how to provide flexibility to modern workspaces in a productive organization.
Delegates were also able to view installed systems in refurbished meeting rooms, with each room themed to represent a location from Pure AV's development.
The rooms offered an opportunity for visitors to try live calls and were able to see the impact that changes to the physical environments that acoustic panels can have on a room user's experience.
Pure AV's CommUniCate19 showcase brought together over fifty delegates from business, higher education and healthcare to explore the latest tools in business communication.
The rooms offered the chance to try live calls and, equipped with acoustic panels, enabled visitors to see first-hand the impact that changes to the physical environment can have on the room user's experience of the technology.
Peter Sutton, managing director, Pure AV explained: "In hosting the event, we wanted to create the opportunity to hear about best practice, and experience and compare a range of the solutions now available.
"The success of last year's event proved there is an appetite for this kind of showcase in the region and we wanted to open up our offices again and invite existing and prospective customers to explore how we can harness technology to bring real business benefit to their organisations. Listening to the feedback from our customers and suppliers, I believe we have succeeded in that objective".
CommUniCate19 took place on 21 November at the Pure AV offices in Preston, UK.
---
Taken from Inavate. 28 November 2019.
Visit the Inavate website for more information.

---
Posted: 28th November 2019
---
Tagged in...