Providing a display platform at King's Cross Station
TfL's Art on the Underground delivered their movie commission on a giant HD video screen to thousands of London travellers every hour. Better quality than LED screens at a fraction of the cost.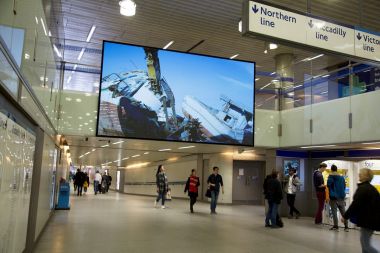 Our brief
As part of TfL's Art on the Underground visual arts showcase, artists Broomberg and Chanarin produced 'The Bureaucracy of Angels', a powerful and thought-provoking short film concerning migrants and their plight in escaping from Libya to Sicily in unseaworthy boats. The striking and moving imagery, combined with a Sicilian-themed soundtrack, needed a system of the highest quality.
We were asked to provide a 5.12 metre wide full HD video display in one of London's busiest underground railway stations, Kings Cross & St Pancras, over a walkway along which thousands of travellers pass each hour.
There was no major structural support for mounting our screen, just a glass balustrade, challenging us to find ways of securing the screen in its desired location.
We had to work with possibly the toughest fire regulations in the world. This station was the site of a major fire tragedy on 18 November 1987, this project falling on its thirtieth anniversary.
Health and safety regulations allowed only opportunities to work a handful of hours in the early mornings.
The London Underground environment is very dusty as a result of trains' braking systems. Whatever system was specified had to withstand these additional environmental challenges.
Read the
full case study
here
---
Posted: 11th February 2021
---
Tagged in...